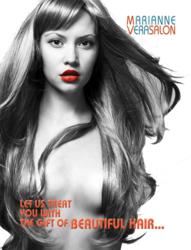 Marianne Vera offers "Madison Avenue work" for a fraction of the price. This is what has made this New York hair salon so popular in a challenging economy!.
(PRWEB) February 21, 2012
In an effort to satisfy clients' demand for daily deals, New York Hair Salon Marianne Vera is happy to announce its new introductory deal for new customers, giving the opportunity for women looking for a top hair stylist, to receive up to 50% off on hair services, including highlights, hair color, haircut or hair styling!
"We might not attract 600 new clients like we did with Groupon, Living Social and the likes but we aim to attract women who are genuinely looking for a new hair salon and not just a deal." says Caroline, owner of Marianne Vera.
Marianne Vera salon, aka MV Salon, is a vibrant and busy New York hair salon owned by Parisian hair stylist Caroline Lameda who was trained in the French apprenticeship tradition under master stylists Jean Claude Biguine and Jacques Dessange. While still in Paris, she worked for upscale Hair Salons in the 16eme Arrondissement of Paris-- a very affluent area of the City of Light-- where she developed her skills, "styling the locks" of many VIP clients. She decided to expand her European horizons in the 90's and crossed the pond to come to New York where her talents opened many doors. She worked in various salons on the Upper East Side quickly building a loyal clientele and successfully opening 3 salons under her management. In 2003, she opened her own Salon with a childhood friend who had followed her footsteps to New York. Together, they decided to name the salon after their respective mothers: Marianne and Vera.
Marianne Vera Salon naturally became a Francophile environment - 5 of its staff members are from France and a few others from Europe. So, it might have been the French elegance or the French "je ne sais quoi" that attracted its eclectic clientele. On any given day, more than five different languages can be heard, from French, Spanish, Italian, Portuguese, Russian, Cantonese and Hebrew. Additionally, a nice selection of French wine is served daily after 5pm-- a traditional Happy Hour musically graced with happy notes of French music-- so clients can relax and practice French or Hebrew or read European magazines. Otherwise, MV is located in New York, where English is always the first language.
Caroline invites new clients to experience the French savoir-faire de la coiffure. First with a "Soin Nourissant", a deep conditioning hair treatment with Essential Oil From NUXE, followed by a scalp massage. This delicious treat will leave anyone feeling revitalized with hair looking amazingly healthy, shiny and easier to manage.
When it comes to hair color, L'Oreal and Redken are the first brand choices. For someone who needs to change color completely or just blend in the grey, Marianne Vera's experienced colorists always find the right shade to compliment skin tone, features and style. Alternatively, a color glaze or clear gloss will add shine and vibrancy to existing color in just ten minutes! Think like sheer nail polish to your hair that rinses off after a couple of weeks. MV also proposes different highlighting techniques including Balayage- the French hand painted highlight technique that creates a more natural look. Otherwise, partial foil highlights around the face will add softness and create a sun kissed look. For a more dramatic result, a full head of highlights is always the number one request for blondes and brunettes alike. Marianne Vera serves many clients wanting hair color like Lindsay Lohan, Jennifer Aniston or Jennifer Lopez and they do leave the salon with celebrity hair color! Photos are uploaded regularly on MV's Blog, flicker or Facebook
In France, hairstylists spend months training in a hair salon before they can use a pair of scissors. Following this tradition, MV hairstylists offer many years of experience in Europe and the US, giving beautiful haircuts from structured modern looks to classic bobs for all types of hair. Curly hair, thick hair, fine and damaged hair, short or long hair: all will find the perfect haircut at this New York Salon. Many of its upscale clients will say that MV offers "Madison Avenue work" for a fraction of the price. This is what has made this vibrant salon so popular in a challenging economy.
# # #