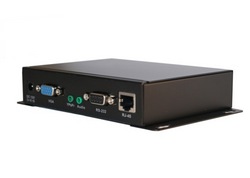 We have been looking for reliable systems with 99.99% uptime. Mvix signage systems were just the perfect fit for our network. With solid-state storage these are highly reliable systems. They are low cost, easy to install and extremely user friendly
Chantilly, VA (PRWEB) September 15, 2010
Advantage NW Advertising has formally announced installation of Mvix Digital Signage platform for its retail and grocert store advertising network across the country. Advantage NW installed the latest digital signage technology, the Mvix Ceeno digital signage player, to power LCD screens to be used as digital signage displays across their network.
Advantage Northwest, a media company based in Coeur d'Alene, ID, is a leader in in-store advertising and signage marketing. It offer prominent signage in major supermarkets in Northern California, Oregon, Washington, Idaho, Montana, and across the nation through partnerships with other industry leaders. Across the country Advantage NW is setting the standard for effective and affordable local community advertising! Combining 26 years of experience with technology, Advantage NW has helped clients in automotive service, construction, financial, hotels and restaurants to get their name and message in front of thousands of potential customers every week.
In its search for low-cost, stable and energy-efficient signage platforms, Advantage NW has tested multiple systems in the past few months – ranging from stand-alone PC-based systems to embedded, legacy signage platforms. After extensive trials, Mvix digital signage platform was formally chosen for its nationwide network of advertising signage systems. "Our advertising network is designed to draw consumers' attention, to promote sales and to enhance the consumer's experience at client locations. We have been looking for reliable systems with 99.99% uptime. Mvix signage systems were just the perfect fit in our network. These systems work on solid-state storage and are highly reliable. These units are low cost, easy to install and extremely user friendly," said Ryan Fox, President of Advantage NW.
"Our Mvix signage system is designed with stability, easy of use and low cost in mind and Advantage NW installation is an exemplary use of our platform", stated Mike Mallon, VP of Business Development. "The low cost, affordable cost structure and intuitive, hassle-free content management system is the core of Mvix platform and our clients appreciate that."
"We are extremely pleased with the customer service and technical support team of Mvix. These individuals have made the project implementation a great success!" stated Nick Burdett, Sr. IT Technician of Advantage NW.
###