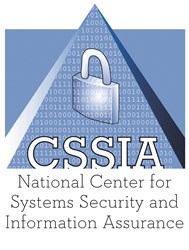 Palos Hills, IL (PRWEB) November 13, 2013
Since National Geographic Channel aired "American Blackout", a fictionalized account of a cyber attack of U.S. power outrage, even more attention has been focused on the security of the United States. In fact, did you know that hackers remain undetected on a network on average for 416 days? The amount of damage that can be done in this time is huge! Even though there's tremendous growth in cyber security professionals with its zero unemployment rate, it isn't keeping up with the high demands for these executive skills in American businesses and governments. As a result, the National Center for Systems Security and Information Assurance (CSSIA) has focused on addressing the need for cyber security experts by hosting the Midwest Regional Collegiate Cyber Defense Competition.
Cyber security teams now have a chance to prepare in cyber warfare by participating in their state's Collegiate Cyber Defense Competitions (CCDC) and fall is the time when top tech-savvy students prepare for the 2014 event. Registration is open until November 15th and two-year and four-year universities and colleges are putting together students in cyber security programs to form teams to compete in this elite competition. These teams will defend and build their mock production business infrastructure from professional "hackers" who are given the challenge to take each team's production systems offline and breach their security. CSSIA fights "hackers" by training Cyber Security Warriors and this competition is the perfect way to get started!
The CCDC judging staff will deploy network enhancement and upgrade challenges to teams, while teams work hard to fend off "hackers". The Team's will be judged on performance, scoring and supporting the overall event.
Last year was the first time Moraine Valley Community College competed in a CCDC event, and won at the state level. The CCDC packs five years of real world experience into eight hours. This competition is an experience students can build from in their career development to defend cyber security crime.
Throughout February, more than 300 students will compete in their state's Collegiate Cyber Defense Competition. The winning teams from each state are eligible to compete at the Midwest Regional event at Moraine Valley Community College in Palos Hills, IL on March 28 and 29. The winner of that competition will be competing at the 2014 National CCDC in April 2014, expected to be held in San Antonio, Texas.
A very attractive highlight of the MWCCDC is job recruitment. Sponsoring businesses, such as Department of Homeland Security, DELL Secure Works and U.S. Navy's Space and Naval Warfare Systems Command, come to observe, interview and offer jobs on-site to students during this gilt-edged competition. All students who compete have their resumes in hand and are ready and prepared to be interviewed during this event.
The Midwest Regional Collegiate Cyber Defense Competition serves Illinois, Indiana, Iowa, Kentucky, Michigan, Minnesota, Missouri, Ohio and Wisconsin. To participate, go to http://www.cssia.org/ccdc. If you live outside of the Midwest region, visit http://www.nationalccdc.org.
The MWCCDC is looking for the next generation of cyber security specialists. Form your team today before registration closes on November 15th.
For more information, contact Lynn Dohm at lynn(dot)dohm(at)morainevalley(dot)edu or 815-717-6546.