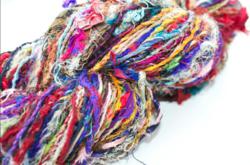 I didn't want to just sell supplies, I wanted to sell textiles and fibers that are earth and people friendly.
Emmaus, PA (PRWEB) February 25, 2013
Marian Watkins, the owner of MW Fiber Arts, loves the feeling of walking into a craft supply store and not knowing where to start. All of the color, texture and endless possibilities have been her favorite part of crafting supplies. Starting at a young age when she spent all of her hard earned lemonade stand money on beads and other crafting supplies at the local craft store.
Today, Marian still has a passion for crafts, leading her to start MW Fiber Arts, an online fiber art supply company offering unique recycled textiles to fiber artists, jewelry makers, and the home crafter.
"I have always had the dream to open my own business in this industry, it was a natural fit, but, I didn't want to just sell supplies, I wanted to supply textiles and fibers that are earth and people friendly. It makes my customers feel great that they are adding an eclectic touch to their project while using Free Trade products. And it makes me feel good too.", explains Watkins.
MW Fiber Arts has been in business since October 2011 and has seen a steady increase in customers wanting more selections of color and textile type in the recycled Fibers. This year the business has added over 35 new color and fiber types to its inventory, a number that continues to increase.
The fiber arts supplies that can be found at MW Fiber Arts are created by women's cooperatives in India using remnants from the of production of silk saris. These materials are handspun and dyed by woman who are provided with a marketplace for their products, as well as much needed wages for their families. The products are Free Trade and child labor free.
"I'm excited to offer this type of product to our customers. It's rewarding to see what they create with the textiles they've purchased. And, of course, it's fun for me to be around all of these great colors and textures. I'm proud of how far we've taken the business."
The best is yet to come.
About MW Fiber Arts
MW Fiber Arts offers supplies for fiber arts, needlework, mixed media and jewelry making. Recycled Sari Silk Yarn, Recycled Sari Ribbon, Recycled Sari Fiber, Hand Dyed Ribbon, Hand Dyed Roving, Hand Dyed Yarn and Unique Fiber.
Learn more about their selection by visiting http://www.mwfiberarts.etsy.com