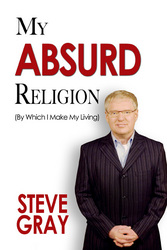 The religion that was meant to save me - almost killed me
Kansas City, MO (PRWEB) October 28, 2008
Steve Gray, pastor, author and Emmy® award winning producer is shaking up the Christian community with his new book, "My Absurd Religion" released today, October 28, 2008. His book can be taken as nothing other than a direct challenge to today's Christian and Evangelical leaders and churches, posing the question: Is religion to blame for the current American crisis?
Gray doesn't toe the Evangelical "party line" and blame America's current crisis on the gay community, pro-choicers or the movie industry. Rather he places the blame squarely on the American church and its leaders. Aware of the criticism he is facing with this book, Gray defends his stance, "I am not taking wild swings at someone else's religion. I am trying to rescue my own."
"My Absurd Religion" hits hard at what Gray terms religious absurdities that are keeping ordinary people out of touch with God. With over 30 years in the ministry, Gray writes out of his own experiences and those of thousands of other pastors that have come to him for help. "The religion that was meant to save me - almost killed me," Gray candidly shares in this new book. This is Gray's effort to reach out and help those who have been hurt by the American Church.
However, "My Absurd Religion" is geared towards more than just church-goers. It is for people who are genuinely interested in God - but not religion. As Gray states, "Most people who don't go to church are not anti-God, they are just anti-religion. They are fed up with what religion has become." By exposing weaknesses in current religious thought, Gray attempts to restore Biblical Christianity to the churches of America and encourage authentic encounters with God, which he believes is possible.
My Absurd Religion is available at Amazon.com.
About Steve Gray:
Author, Emmy® winning producer, and experienced ministry insider Steve Gray pastors World Revival Church of Kansas City, previously known as the Smithton Outpouring and reported on by TIME, Newsweek and Charisma magazines.
Gray pioneers new methods to bring ordinary people religion that works. As executive producer of The Steve and Kathy Show, he uses humor and a late-night TV show format to expose the religious absurdities that affect all of our lives. 2008 Emmy® award winner and winner of over 49 Telly awards, this faithbased show is confirmation that religious broadcasting in America is overdue for an overhaul.
Additionally, Gray has established The House of Hope and Healing, a 24/7 ministry offering prayer for those experiencing spiritual, emotional and physical crisis; World Revival School of Ministry, training new ministry leaders academically and practically; and World Revival Network of Ministries, equipping and supporting those in Christian leadership. His other books include "When the Kingdom Comes" and "Follow the Fire."
Contact:
Casey Lohman
Steve Gray Ministries Public Relations
866.590.7722
clohman @ stevegrayministries.com
###