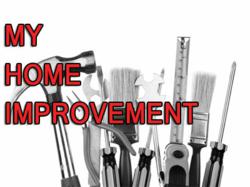 My Home Improvement provides exciting & dependable material on a blog interface that makes it easy for website visitors to navigate.
Indianapolis, IN (PRWEB) January 09, 2013
My Home Improvement, a blog about home renovation and repair, is celebrating its 700th post in over three years of blogging. The officials at My Home Improvement attribute this success to several factors.
One primary reason for the blog's continued success is the interesting information each post provides. The blog focuses on consistently sharing exciting and innovative home remodeling and repair ideas, from the newest materials on the market to the most tried-and-true DIY projects and techniques. With topics ranging from types of bathroom flooring to kitchen updates on a budget to seasonal subjects such as winterizing one's house, the My Home Improvement blog offers a wide array of material that any home owner and blog reader would find useful.
The information supplied by My Home Improvement is not only on topic, it is also reliable, another factor for the blog's lasting success. Every blog post is well researched and provides the latest, most accurate material on the topic. Many blog posts also include expert links to well-known, credible sites such as HGTV.com, DIYNetwork.com, and BobVila.com, as well as links to general contractors, electricians, plumbers, manufacturers, and other home remodeling and repair companies located across the country.
My Home Improvement provides this exciting and dependable material on a blog interface that makes it easy for website visitors to navigate. All posts are organized into a variety of categories, and the blog includes a drop down menu from which readers can select a category to see the relevant posts. The blog also features additional user-friendly navigational tools, including a search bar to look up any topic within the entire blog and an archives list broken down by month and year to find older posts more quickly.
To make it even easier for readers to interact with the blog, My Home Improvement joined social media platforms Facebook in 2010 and Twitter in 2011. Those interested in liking or following the blog can find it on Facebook as My Home Improvement and on Twitter at its handle @ImprovingMyHome.
About My Home Improvement
My Home Improvement is a home remodeling and DIY blog dedicated to sharing innovative and useful ideas relating to the home. Started in July 2009, the blog has grown from posting a story per week to nearly once a day. Posts on My Home Improvement are about anything from basic maintenance tips and DIY home makeovers to current remodeling trends and energy-saving advice.
For more information, please refer to http://www.My-Home-Improvement.com.
# # #