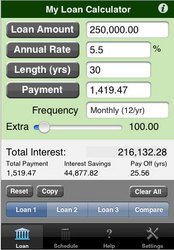 The new My Loan Calculator app is indispensable for evaluating loans at different financial institutions
Albuquerque, NM (PRWEB) March 27, 2009
Vertex42.com has just released My Loan Calculator, a new app for the iPhone and iPod Touch available for purchase through the iTunes App Store. This application can help take the guesswork out of borrowing money by putting the facts and figures right at the customer's finger tips. Users can download the My Loan Calculator App through the App Store for just $1.99.
The application, available from publisher http://CalcNexus.com, is the brainchild of the team at http://www.Vertex42.com. Vertex42.com has been a leader in spreadsheet templates and financial calculators since 2003. The company's easy-to-use custom templates make financial management accessible for the average consumer, regardless of math aptitude.
Within seconds of entering the required fields, a user can know the total interest paid on a loan, the monthly payments and how much money can be saved by making extra payments. Ever wondered how long it will take to pay off a specific credit card or how much of a loan you can afford, My Loan Calculator can provide you the answers.
"The new My Loan Calculator app is indispensable for evaluating loans at different financial institutions," said Vertex42.com founder Dr. Jon Wittwer. "Instead of trying to crunch the numbers themselves, our app will allow the average consumer the ability to compare apples to apples all from their iPhone or iPod Touch. Consumers will be able to see the difference in interest over the entire life of the loan, right on their screen, helping them get the best deal possible by evaluating loan packages from different lenders."
Even if users are not in the market for a new loan, My Loan Calculator will help them manage their current loans more effectively. Users can enter the interest rate, balance and payment amount for an existing loan and be able to see how much interest they are currently paying. App users can also calculate how many extra payments they may need to make to pay off the loan by a certain time, and see how much money they could save by making extra payments.
The My Loan Calculator app includes some of the most popular features of Vertex42's amortization calculator, home mortgage calculator and simple loan calculator. Rather than using these spreadsheet-based calculators from a desktop, My Loan Calculator streamlines the process so that users can analyze many types of loans from one simple mobile app.
My Loan Calculator is very easy to use. It will remember all user settings and information, even when the app is not in use. Users can e-mail the amortization schedule or loan comparison to themselves or someone else. The app also has detailed compounding options that allow anyone to adjust the settings to cover both American and Canadian mortgage securities.
If a user is a loan newbie, they will still be able to find out more about confusing loan terms with the built in help tab. It connects directly to a webpage with helpful information about the app and the nature of loans. Topics like accelerated payments, compounding period, amortization and interest savings are covered on the help page.
About CalcNexus.com:
CalcNexus provides free online calculators for web-enabled mobile devices like the iPhone, iPod Touch, and Blackberry. CalcNexus.com is owned and operated by Vertex42.com. Visit CaclNexus online at http://CalcNexus.com/.
About Vertex42.com:
Vertex42.com is a leading provider of spreadsheet templates, calendars, and financial calculators. Vertex42 was founded in 2003 by Jon Wittwer, a Ph.D. student at the time. Since then, Dr. Wittwer has created over 70 templates and spreadsheets for small business, personal finance, health and fitness, education, and time management, most of which are available as free downloads. Visit Vertex42 online at http://www.Vertex42.com.
###