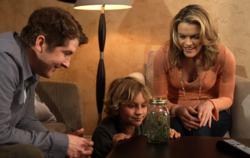 The comedy works on so many levels and seeing the overwhelming audience response to the film sealed the deal.
Los Angeles, CA (PRWEB) October 05, 2011
Producers of indie comedy "My Uncle Rafael" have officially announced finalizing an agreement for a North American theatrical release and worldwide representation with Slater Brothers Entertainment. The deal falls on the heels of the film's successful showing at the Arpa International Film Festival where it garnered three major awards and officially carved its notch as the first American comedy in history with an Armenian lead character. 'Rafael' producer Michael Garrity announces that executive producer and SBE principal Todd Slater will oversee the domestic release, which is expected to hit theaters in early 2012.
"Marc Fusco, Vahik Pirhamzei, Scott Yagemann and the team behind 'Rafael" are incredibly talented and we are honored to work with them. The comedy works on so many levels and seeing the overwhelming audience response to the film sealed the deal," says Slater. "We're excited to provide the distribution channel to get 'Rafael' to the masses."
"My Uncle Rafael" follows an old Armenian Uncle who gets cast in a reality show and has one week to save a dysfunctional American family from breaking up. Directed and edited by filmmaker and former Spielberg assistant Marc Fusco, the film stars comedy veterans Missi Pyle (Charlie & the Chocolate Factory), John Michael Higgins (Couples Retreat), Anthony Clark (Yes, Dear), Joe Lo Truglio (Paul), Rachel Blanchard (Flight of the Concords), and introduces Vahik Pirhamzei as Rafael.
With a platform release planned for early 2012 and a seven figure P&A investment, Slater Bros will work in partnership with the film's principals to build a strong, targeted marketing campaign and expand its reach into the mainstream domestic market.
"We are thrilled to partner with Slater Brothers Entertainment whose experienced and innovative team have the ability to further the film's reach. They are the perfect fit for a movie like this at a time when the distribution industry is changing so rapidly," states producer Michael Garrity. "We know the film has a real audience waiting to see it and with a solid release plan, we're confident it will perform well."
After the North American premiere at the Arpa International Film Festival, 'Rafael' took home the festival's Breakthrough Performance Award for Vahik Pirhamzei and his remarkable comedic portrayal of the film's outspoken, yet beloved Uncle Rafael. The Best Director trophy went to Marc Fusco and Best Screenplay Award to Scott Yagemann and Vahik Pirhamzei.
About Slater Brothers Entertainment:
Slater Brothers Entertainment is a multi-dimensional entertainment company that produces, markets and finances major film, art and sports properties. Veteran film exec, Todd Slater has been a producer of over ten motion pictures, and was EVP of marketing and distribution at Philip Anschutz's Entertainment company, where he oversaw campaigns on "Ray," "Swimming Upstream" and "Sahara." SBE founded and operates New York's quickly growing Hamilton International Film Festival and also places a special emphasis on working with governmental, non-profit and charitable organizations. The company has offices in Los Angeles, California as well as Tampa, Florida.
http://www.myunclerafael.com
http://www.slaterbrothersentertainment.com
###