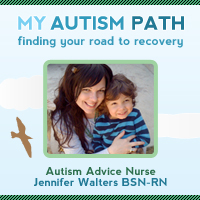 I want to use my experience as a nurse and a parent recovering her son from Autism to help people navigate this really difficult and challenging field. Jennifer Walters
Joplin, MO (PRWEB) March 07, 2012
MyAutismPath includes an online questionnaire designed to allow parents to chose from a list of the most common symptoms of autism to create a customized test panel specifically for their child. When results are complete, parents choose a time to speak with MyAutismPath's Advice Nurse, Jennifer Walters.
Jennifer Walters is a registered nurse who battles Autism daily for her five-year-old son Bryan. Professionally, she is committed to understanding the mystery of Autism and to helping those afflicted by it.
"I want to use my experience as a nurse and a parent recovering her son from Autism to help people navigate this really difficult and challenging field." Said Jennifer. "I want you to be able to not only understand the lab values, but I also want to help you communicate better with your doctors and help get you through this."
By choosing the symptoms that are currently visible, parents are able to create a baseline of results from the five top biomedical labs in the world; LabCorp, Metametrix, Alletess, Doctors Data, and Great Plains. Due to the complexity of the results, all are delivered securely online and include a personal review session with Jennifer to explain and prepare parents for their next doctor's visit.
"The value of the baseline test is that everyone has a fresh starting point for his/her child." Said Dr. Craig Brandman. "The more complete the baseline panel, the more value it has going forward as all future results will be compared to it, and you and your doctor can create the ultimate personalized medical treatment."
As a part of partnership, Jennifer is answering questions online and she will soon begin live monthly chats on Facebook. Jennifer's first video answers the question, "How do I make the blood draw easier for my Autistic child?" In her video response, Jennifer shares how she prepares herself, the lab, and her son for the lab visit and blood draw.
When asked what initial advice she would give to a parent getting started with MyAutismPath, Walters added, "Take a deep breath. There is hope."
About Jennifer Walters
Jennifer Walters is a Registered Nurse who battles Autism daily for her five-year-old son Bryan. Jennifer has witnessed, first hand, the clinical success of a bio-medical approach to treating autism, and she has focused her career on identifying individualized treatments that are designed to address the underlying physical illnesses that cause autistic behavior. Jennifer believes that in many cases, recovery from autism is possible, and that nursing's holistic approach to patient care will give people the best opportunity to heal. Jennifer is optimistic that her own son will be an autism success story and looks forward to helping others on the path to recovery. To Submit a question to Jennifer online, visit Facebook.com/MyMedLab
About MyMedLab
Digital health pioneer, MyMedLab is a leading provider of direct-to-consumer laboratory testing services. MyMedLab has developed a unique suite of software applications and professional networks that enable the ordering, processing, and reporting of test results directly to consumers. To order tests, receive test results privately online, and talk to an expert about your results, visit MyMedLab.com. Connect with others in the MyMedLab community on Facebook.com/MyMedLab