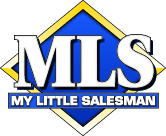 Austin, TX (PRWEB) April 11, 2013
My Little Salesman Heavy Equipment and Truck & Trailer catalogs and subscriptions are available to Machinery Auctioneers attendees for free at Machinery Auctioneer's public auctions in San Antonio, Texas.
Held the second Saturday of the month, the public auction features heavy machinery for all applications, pick-up and one-ton trucks, class 7-8 trucks, tractors, travel and haul trailers, and more. My Little Salesman catalogs feature new and used trucks, trailers and heavy equipment from dealers and individuals across the United States.
"Our catalogs help buyers find retail value for the equipment they're considering bidding on" said My Little Salesman Territory Manager John Merner. "This partnership allows us to be a resource for pricing."
The next auction is Saturday, April 13 at 10 am at 16792 S 1H 35, Atascosa, TX. Live bidding is also available online through Proxibid.