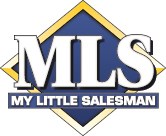 Austin, TX (PRWEB) August 29, 2013
My Little Salesman, online marketplace for new and used trucks, trailers, and heavy equipment, is pleased to announce a partnership with TruckersEdge powered by DAT, the industry's leading online load board.
My Little Salesman users may now use promotional code "promo155" when registering for TruckersEdge for 30 days of free membership.
TruckersEdge is the largest load board in the industry, featuring:

unlimited load searching and truck posting
instant alarm match notification for your searches
mileage and routing
broker credit scores and days-to-pay
weather and road conditions
reliable partnerships, established through oversight on proper authority, licenses, and code of conduct
The DAT Network began in 1978 as Dial-A-Truck (DAT) at the Jubitz truck stop in Portland, Ore. It's the original 'load board' that started as a board covered with index cards advertising available loads to for-hire drivers waiting at truck stops. Today, DAT is a vibrant marketplace for 60 million loads and trucks per year and has become the industry standard for load boards.