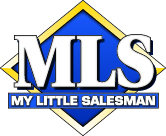 Austin, TX (PRWEB) May 07, 2013
My Little Salesman, a leading marketplace in connecting buyers and sellers of new and used trucks, trailers, and heavy machinery, reports over 1,000 percent increase in website traffic for quarter 1 of fiscal year 2013 over the previous year.
Visitors to the site between January 1, 2013 and March 31, 2013 increased 1,489 percent over the same period in 2012. Visits to the site increased 1,266 percent in the same period.
"We've worked really hard on implementing new changes to our website," says My Little Salesman President Jason Pierce. "Our customers have commented on the improvements, but it's rewarding see the hard data to back up the anecdotes."
Changes to My Little Salesman's online presence include a universal search engine, bulk import capabilities, and redesigned user interface for easy account management.