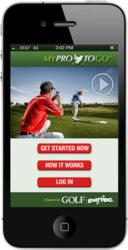 New York, NY (PRWEB) November 20, 2012
Just like tour pros, whose swing doctors travel with them wherever they go, everyone who plays the game can take their teaching pro on the road with the hot hottest new digital product of the season: My Pro To Go.
Created by the Sports Illustrated Golf Group and GolfTEC, the two most recognized names in golf instruction, My Pro To Go takes just minutes. Golfers can record their swing whenever and wherever they like – in an airport terminal, or even in a hotel room (but please don't smack your club into the ceiling).
My Pro To Go makes getting a lesson as simple as capture, upload, and improve:
1) Using a smartphone, take video of the front and side views of the golf swing;
2) Send the video from the phone to My Pro To Go, via the app or website;
3) Receive a video swing lesson and drills from a GolfTEC coach.
A single private lesson costs $39, with savings for a series of lessons. Go to MYPROTOGO.com for additional details. A free iOS companion app is available in the Apple iTunes® App store.
My Pro To Go can be viewed on any number of personal devices, including smartphones, tablets, laptops and desktops. It's like having a personal pro at the beck and call – no matter what the time zone!
# # #
About THE SPORTS ILLUSTRATED GOLF GROUP
THE SI GOLF GROUP, the most powerful media company in the game, consists of the combined resources of GOLF MAGAZINE (5 million readers monthly), SI GOLF+ (the No. 1 weekly) and GOLF.com (the highest-trafficked website), delivering a monthly audience of more than 12 million avid golfers and fans. GOLF MAGAZINE, SI GOLF+ and GOLF.com are owned by Time Inc., which is a wholly owned subsidiary of Time Warner Inc.
About GolfTEC
GolfTEC has achieved a remarkable 95% success rate with its students by applying Proven Path, the company's proprietary improvement method. Proven Path consists of five components: Fact-based Diagnosis; Sequential Lessons; Video-based Practice; Advanced Retention Tools; and Precision-matched Clubs. GolfTEC's Certified Personal Coaches have given more than 3.5 million lessons to over 250,000 clients, and Improvement Centers can be found in almost all major U.S. cities, and in Mexico, Canada and Japan. For more information, visit GolfTEC.com or call 877-4-GOLFTEC.