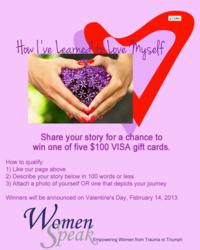 We all want to feel like we are connected and supported. We want to feel like we belong. An important way to make those connections is to tell a story that can help someone else.
Springfield, MO (PRWEB) February 06, 2013
Clinical psychologist Dr. Nancy O'Reilly believes sharing stories with each other provides tremendous emotional, psychological and spiritual benefits. That's why her organization WomenSpeak is sponsoring a contest in which women tell how they have learned to accept and love themselves.
Submissions will be accepted at the WomenSpeak Facebook page until midnight February 13. Prizes will be awarded on or after Valentine's Day, February 14, 2013.
Loving and accepting oneself is an important part of learning to love and accept others. Women especially tend to judge themselves harshly. Many women make an intensely personal journey from insecurity and self-doubt to confidence and self-acceptance, yet they tend to keep quiet about it.
Here are two important reasons women need to share their stories:
1. Stories help the listener. Women usually think others are doing much better than they are and often discount their experiences as trivial or boring. When they hear how others have struggled and triumphed, they gain hope and see that they can succeed as well.
2. Stories help the teller. "Just seeing the words as you write helps you work through tough issues," she said. "We understand ourselves better and learn to put aside self-judgment and self-criticism. Once you have written about a phase of your life, you can close that chapter and go on to the next."
People have shared stories since they first developed language, Dr. O'Reilly says. Whether painting on a cave wall, penning ink on a sheet of papyrus, or typing on a computer keyboard, sharing stories is the most basic way people keep from feeling alone. "We all want to feel like we are connected and supported and that we belong," Dr. O'Reilly says. "We especially make connections when we tell a story that can help someone else."
Dr. O'Reilly finds healing in sharing stories about her own life experiences on her website, and has reached out in the past year with stories of her own recovery and triumph after a painful divorce. Contest stories include women's triumph over health crises, leaving an abusive husband and completing an education, making amends and relieving guilt, and accepting oneself despite a critical spouse. The contest stories will be shared to encourage, support and inspire others through the online WomenSpeak community.
WomenSpeak offers online resources, encouragement and support to Empower Women From Trauma to Triumph at WomenSpeak. Dr. O'Reilly is available for telephone interviews about the importance of learning to love oneself.