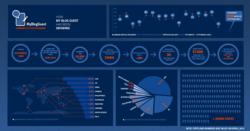 We are planning more features to accelerate growth of our user base, and add space for new collaborations between bloggers and publishers
(PRWEB) May 03, 2012
My Blog Guest, the web's first and only platform connecting freelance bloggers with publishers is a very active community that launched in 2009 and grew to over 28000 users in early 2012. The company announced site-usage statistics that reflect its growth and path to success.
Over 53000 unique and original articles have found their homes through MyBlogGuest in the past three years, with an average of 200 articles published daily through the article gallery. The site's main users come from the US and UK, but there's an increased interest from users in Canada, Australia, South Africa, and even non-English speaking countries.
This interest is generated by MyBlogGuests's pro-active attitude towards its users: to date, the company has organized and supported over 30 blog-guesting contests, and is giving away $1000 in cash quarterly to the most active guest post publishers.
MyBlogGuest will focus on offering its expanding user-base an increased choice of content, and more tools for collaboration.
"This year we have already added an Infographics Gallery providing more engaging content for publishers, who can now enhance their sites with trendy, click-generating content. We are planning more features to accelerate growth of our user base, and add space for new collaborations between bloggers and publishers," explained MyBlogGuest founder Ann Smarty.
About MyBlogGuest:
Founded by Ann Smarty, one of the web's most noted social media and SEO authorities, My Blog Guest offers a unique platform for connecting publishers (blog owners) with content providers (guest bloggers). Publishers can find free, unique content to enrich site quality, while guest bloggers get promote their expertise on various niche-specific channels, slowly becoming recognized authorities in their fields. A win-win solution for site owners and content providers, MyBlogGuest.com is a content platform with zero tolerance for spam and plagiarism. For more information visit MyBlogGuest.com, or follow MyBlogGuest on Facebook and Twitter.