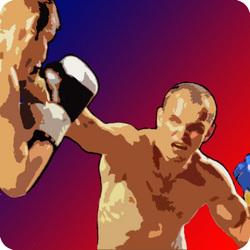 the virtual coaching feature was based on users saying they had trouble recalling boxing combos while training
Fallston, MD (PRWEB) October 25, 2010
Today GAMMEK LLC of Baltimore, Maryland announced the release of their latest fitness app, MyBoxing™ Pro Trainer, the first and only iPhone® fitness app to include a virtual boxing coach.
The boxing app combines a round timer that plays the sounds of the round bell, call outs of boxing combinations and motivational phrases, while simultaneously playing selections from the user's music library. MyBoxing™ Pro Trainer provides the experience of having a personal boxing coach directing punch combinations as the user trains.
MyBoxing™ Pro Trainer builds upon GAMMEK's successful franchise of timer based fitness apps which include MyBoxing™ Trainer, MyMMA™ Trainer, and Flirty Fit™ Chair. "Since releasing our first boxing fitness app in the Spring of 2009, we have received useful feedback from our user community", said Gerard Meyer, GAMMEK Executive Director, "the virtual coaching feature was based on users saying they had trouble recalling boxing combos while training."
As with the other GAMMEK fitness apps, MyBoxing™ Pro Trainer combines a round timer with a workout builder to step the user through a series of boxing related drills and exercises. The workout builder is especially useful for people who follow a specific training plan every day.
The virtual coaching feature can be personalized, allowing selection of the boxing combos or phrases for the workout. Starting with a set of basic moves and boxing combos called out by punch name, the user can add faster and more complicated numbered punch sequences as proficiency increases. MyBoxing™ Pro Trainer includes a comprehensive library of over 250 training videos covering offense, defense, conditioning, and boxing gym equipment to assist with skill development.
The training drills and fitness regimen included within the boxing app can be completed with or without specialized boxing gym equipment. MyBoxing™ Pro Trainer is well suited for amateur and professional competitors, students, and frequent travelers who want to get an excellent workout without a gym, treadmill or large space. The athlete can also use the boxing app to shadow box while jogging, like in the classic boxing movies. This iPhone® app provides a low cost alternative to personal training, or a traditional gym membership and helps develop the skills necessary to prevail in the boxing ring or MMA arena.
MyBoxing™ Pro Trainer has been developed for the Apple® iPhone®, iPod touch®, and iPad™ and is currently available through the iTunes® App Store. Visit http://www.gammek.com for more details.
# # #