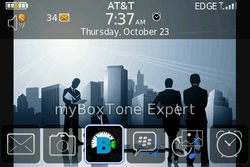 Across the industry, organizations are turning to user self-service approaches to enable faster issue resolution at the source, and to reduce overall support costs
Columbia, Maryland (PRWEB) October 30, 2008
BoxTone(R) Inc., the expert in mobile user management, today announced the release of myBoxTone(TM) Expert -- the market's first personalized mobile self-health and remote support application purpose-built for BlackBerry smartphones.
Available for purchase by enterprises as a standalone product or as part of the BoxTone modular software solution for managing, monitoring and supporting the BlackBerry environment, myBoxTone Expert is designed to enable an IT help desk, wireless carriers and service providers to reduce the cost to support mobile users while enhancing the quality of those users' mobile experiences.
myBoxTone Expert acts as a personal technical assistant, monitoring the health and performance of a mobile user's BlackBerry smartphone. For more than 20 of the most common risk and service issues, the application's self-health technology proactively alerts the mobile user to root cause and walks the user through simple steps to resolve these issues, without the need for outside support. For more complex issues, myBoxTone Expert's remote support interface enables enterprise IT help desks, wireless carriers and service providers to diagnose and resolve problems faster.
"Across the industry, organizations are turning to user self-service approaches to enable faster issue resolution at the source, and to reduce overall support costs," said Alan Snyder, CEO of BoxTone. "With the average organization receiving 4-6 support calls per mobile user per year, providing self-health capabilities to the mobile user can reduce these calls substantially, ensuring a better mobile user experience, higher user satisfaction and lower total cost of support for enterprise IT help desks, wireless carriers and service providers alike."
"As BlackBerry devices are distributed throughout the enterprise, the cost for support goes up with each additional user," said Chris Hazelton, Research Director of Mobile and Wireless at The 451 Group. "The ability for employees to self-diagnose and monitor their own BlackBerry smartphones can reduce the support calls that IT receives, and reduce costs."
Easy to install via Over The Air (OTA) download or BlackBerry(R) Enterprise Server push deployment, myBoxTone Expert draws on BoxTone's long history of innovation and mobility expertise gained supporting more than 360,000 end users. The application delivers unique mobile self-health and self-support capabilities including:

Proactive Alerts delivered to the user via at-a-glance issue notification icons on the smartphone's home screen with one click access to resolve.
Smart Diagnostics to identify and resolve 20 of the most common risks and issues before they result in missed messages outages, or slow performance - issues such as low flash memory, mis-configured or missing service book entries, outages, synchronization, low battery level and poor signal strength.
Intelligent Answers with step-by-step directions and actions the mobile user can use to return the smartphone to optimal performance.
Embedded Remote Troubleshooting including detailed device status, configuration, trend data, alerts and screenshot capabilities so that an enterprise IT help desk, wireless carrier or service provider can solve what their mobile users cannot solve themselves.
Graphical Performance Trending & Charting of signal coverage, battery, phone usage and email traffic patterns to quickly identify trends and relationships between usage and smartphone health.
The release comes on the heels of the wildly successful public beta of myBoxTone Insight, the performance monitoring application downloaded by thousands of mobility IT pros to view their smartphones' vital signs and track health 24x7, and called by CIO.com one of the five great free BlackBerry applications.
"BoxTone software was built from the ground up to measure mobile user service levels and understand actual user experiences," said Snyder. "myBoxTone Expert -- the latest in our suite of plug-and-play software modules -- was the logical next step. It was time to put our advanced technology, wrapped in a simple intuitive interface, in the hands of mobile users themselves."
myBoxTone Expert is available now for purchase by enterprise and government IT organizations, wireless carriers and service providers, to deploy to their mobile users. There are licensing packages to fit most needs and budgets, including starter packages for smaller organizations. For a price quote, call BoxTone at +1 410-910-3344.
About BoxTone
BoxTone software is trusted by more than 160 of the world's leading enterprises and government agencies, including 60 in the Fortune 1000/Forbes Global 2000, to manage, monitor and support their BlackBerry(R) environments. Built on patented SmartMP(TM) technology and conforming to industry standard ITIL practices, BoxTone's comprehensive modular platform and role-specific consoles enable IT and services organizations to collaboratively reduce support costs, accommodate rapid device growth, and guarantee the high quality of service that mobile users demand. Learn more from the expert in mobile user management at http://www.BoxTone.com or call +1.410.910.3344.
BoxTone and the BoxTone logo are trademarks of BoxTone. The BlackBerry and RIM families of related marks, images and symbols are the exclusive properties and trademarks of Research In Motion Limited. All other product or company names mentioned are used for identification purposes only and may be trademarks of their respective owners.
# # #