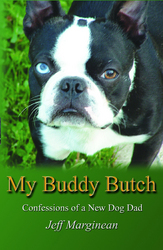 My Buddy Butch Radio Show for pet owners.
North Canton, Ohio (PRWEB) August 4, 2008
Jemar Entertainment, Inc. a multi-media company, announced today the launch of the "My Buddy Butch Radio Show for pet owners." The show will be airing on the critically acclaimed Blog Talk Radio On-Line network and will be "available as a free Podcast on Apple iTunes." The weekly one-hour show will cover current pet issues of the day, have a pet product feature review, and will be taking calls from listeners to discuss their pet problems, comments, and opinions. The show will also host special guests in the form of authors, veterinarians, trainers, pet product and food manufacturers.
This "family-friendly" show will be hosted by author Jeff Marginean ahead of his upcoming book, My Buddy Butch -- Confessions of a New Dog Dad, which will hit the stores on September 5th nationally. The show is an extension of the book in that it is intended to engage families to come together as a group and discuss issues about the care of their dog or pet, opening a line of communication that might not otherwise be available to them.
The Radio show will emanate from the My Buddy Butch Award-Winning Web Site where visitors (adults and kids alike) can check out the interesting pages of information and secret links for fun trivia. "Sometimes funny, sometimes serious," Jeff and Butch also host a blog on the site that is updated regularly. The site is climbing in popularity as its traffic pattern has steadily increased to more than 30,000 hits in July alone. As the show and Web Site progress, there will be contests, giveaways, and games introduced on a timed schedule.
The My Buddy Butch Radio Show stems from the knowledge accumulated by author Jeff Marginean while trying to learn to raise his pup Butch, who was given to him by his father. The funny antics, the problems, and the bond between Jeff and Butch never cease to entertain and educate all of those whom they encounter. This is "Parenting, Boston terrier style! ~ Publishers Weekly"
About Jeff Marginean and Jemar Entertainment, Inc.:
Jeff Marginean is President and CEO of Jemar Entertainment, Inc. and Frog & Scorpion Records Corporation. He is an author, member of the Dog Writer's Association of America, a producer, and a Voting member of the National Academy for Recording Arts and Sciences, home of the Grammys®. Jemar Entertainment, Inc. is a multimedia company.
For additional information on My Buddy Butch or for a sample copy of the book, contact Kate Bandos or visit our contact Web page. My Buddy Butch is a trademark of Jemar Entertainment, Inc.
Contact: Kate Bandos, Publicist
KSB Promotions, kate @ ksbpromotions.com
800-304-3269 or 616-676-0758
###