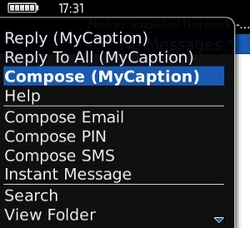 We were looking for a technology partner who supported our vision of voice-enabled mobile applications
Sunnyvale, CA (PRWEB) May 4, 2009
MyCaption.com Inc., a leading provider of mobile voice-to-data applications, announced today that it will use speech recognition technology from Yap, Inc. to drive their business applications for BlackBerry® smartphone and PBX Voicemail.
MyCaption enables business users to accurately voice-write(tm) their email, memos, tasks, contact notes and calendar entries on a BlackBerry smartphone from Research In Motion (RIM). It provides connectivity to enterprise applications through BlackBerry Enterprise Server for Microsoft® Exchange, IBM® Lotus® Domino® and Novell® GroupWise®. Other features include support for multiple email accounts, ample dictation time, text review and customizable dictionary. This application can be downloaded from the company's website, or from the BlackBerry® App World(tm).
MyCaption for Voicemail converts PBX voicemail into text and delivers it as email, saving time and money for business users on the go.
"We were looking for a technology partner who supported our vision of voice-enabled mobile applications," said Vipul Bhatt, founder & CEO of MyCaption. "We chose Yap because of their superior technology, scalability, integration features and excellent service. While our voice-to-text workflow includes more than speech recognition, this technology is a key component of it. With this partnership, we feel empowered to innovate more useful applications for the mobile business user."
"We are pleased to work with MyCaption to support their vision of making the mobile user more productive," said Igor Jablokov, Yap co-founder and CEO. "Partnerships with progressive companies like MyCaption are crucial in our mission to drive mass service provider adoption of high value, low cost applications that harness the power of fully automated speech-to-text technology, such as voicemail-to-text and voice SMS."
About MyCaption
Founded by telecom and enterprise-software experts, and headquartered in Sunnyvale, California, MyCaption.com, Inc., serves business users with mobile voice-to-data applications, including those for the BlackBerry smartphone and PBX Voicemail. For more information, please visit mycaption.com.
About Yap
Founded in 2006, Yap pioneered the world's first fully automated voice-to-text platform for communications service providers. The Company's award-winning speech recognition technologies provide the foundation for innovative applications such as voicemail-to-text, speech-enabled mobile messaging and voice search. Yap's 100% automated approach gives its customers a cost-effective solution that is fast, scalable and secure. The Company is headquartered in Charlotte with offices in Atlanta, Boston and San Francisco, and is financed by SunBridge Partners and Harbert Venture Partners. For more information, please visit http://www.yapme.com.
The BlackBerry and RIM families of related marks, images and symbols are the exclusive properties and trademarks of Research In Motion Limited.
###