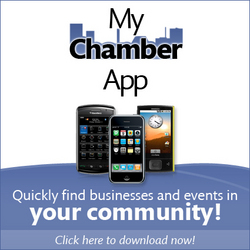 "We are excited to have an option that is more profitable for small businesses than Groupon.."
Los Angeles, CA (PRWEB) April 19, 2011
MyChamberApp (A Subsidiary of ADAM Inc), a leader in hyper local mobile applications and GTX Corp (OTCBB: GTXO) a pioneer in 2-way GPS Personal Location Services (PLS), recently announced a partnership connecting 100,000 businesses nationwide with 1 million consumers. Beginning this week, over 130 Chambers of Commerce members will be able to sign up for MyChamberApp's Hot Deals and GTX Corp's LociDeals all in one place. The technology pushes out content in real time to specific geographical areas, allowing thousands of businesses to easily promote products and services to a wide range of consumers nearby.
Stephan who owns SJS Autos in Santa Monica CA signed up this week for MyChamberApp's Hot Deals and said, "We are excited to have an option that is more profitable for small businesses than Groupon. With MyChamberApp and LOCi Deals I don't need to give away the majority of my income."
Increasing the effectiveness of local marketing while reducing the price is a major attribute of GPS enabled proximity marketing. It's a cost effective marketing tool for local businesses that need an affordable real-time marketing solution.
"We are on a mission to help local businesses leverage these new mobile opportunities; our clients ability to promote their business is greatly enhanced by the partnership with GTX Corp," says Skyler Sutton, CEO of MyChamberApp.
"MyChamberApp clearly was an early leader in the mobile app enterprise space. Their interactive product provides the most comprehensive platform to reach hundreds of thousands of chamber businesses. Our exclusive agreement will create a valuable competitive advantage for us in the proximity marketing industry," says Patrick Bertagna, CEO of GTX Corp
About GTX Corp (GTXO.OB) a leader in enterprise 2-way GPS personal location services (PLS) was founded in 2002 and is based in Los Angeles, California. Known for its game changing and award winning patented GPS Smart Shoe and block buster GPS Tracking App with users in over 111 countries and distributors in Mexico, Australia and Nepal.
Online: http://www.gtxcorp.com http://www.facebook.com/gtxcorp http://www.twitter.com/gtxcorp
General and licensing information - info(at)gtxcorp(dot)com
Investor Relations (213) 489.3019 ext 646 - ir(at)gtxcorp(dot)com
Media - Suzy Ginsburg (713) 334.2357 - suzy(at)gcomworks(dot)com
About ADAM, Inc (App Development & Marketing) a pioneer in developing yellow page and directory mobile apps. Adam's mobile apps are in over 10 Countries and on over 30 different smart phone handsets, including Apple, Android, and Rim/BlackBerry platforms. ADAM allows publishers and content providers to migrate to mobile while keeping their brand and enhances their content with hyper-local information, such as events, deals and discounts. ADAM partners with key industry leaders such as nationwide advertising networks, website hosting development companies, and publishers focused on niche industries.
For inquiries:
Online: http://www.AppDevAndMarketing.com
Denise(at)AppDevAndMarketing(dot)com
General information: (310) 475.0326
###