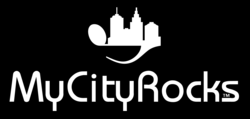 Virtually every week of the year MyCityRocks is involved in promoting and often financially supporting community events that benefit local artists, musicians, and charities.
Houston, TX (PRWEB) July 26, 2011
MyCityRocks announced today that it has received a 2011 Enterprise Award, honoring outstanding excellence and achievement in community service. The Enterprise Awards are presented annually at the Ticket Summit summer conference and trade show in Las Vegas, Nevada. The Awards recognize excellence of professionals in the ticket industry, trade show exhibitors, ticket sellers in the secondary market, and other professionals that have made notable contributions to the industry.
Based in Houston, Texas, MyCityRocks fosters a grassroots network of people who celebrate city pride and spirit, savor the very best in local culture and entertainment and give back to their community. The company also hosts the MyCityRocks Ticket Exchange, a web portal that has gained great popularity, allowing people to buy and sell tickets to concert, theatre, and sporting events around the world.
"I am thrilled for my team to be recognized by the Enterprise Awards for the success MyCityRocks has achieved in making a difference in our communities," stated MyCityRocks Executive Director Cliff Kurtzman. "Virtually every week of the year MyCityRocks is involved in promoting and often financially supporting community events that benefit local artists, musicians, and charities. In turn, our community outreach efforts have reaped us significant benefits in terms of making people aware of MyCityRocks and both our business and philanthropic activities."
"We are very happy to be presenting the Enterprise Award for Community Service to MyCityRocks," said Dr. Molly A. Martinez, Executive Director, Ticket Summit. "Their community service contributions to a wide range of causes are commendable, noteworthy examples of social responsibility, and we congratulate them for their outstanding efforts."
MyCityRocks community service outreach has included support for the Muscular Dystrophy Association, Juvenile Diabetes Research Foundation, Spacetaker, The Bridge Over Trouble Waters (women's crisis center), The Red Cross, Bikers Against Breast Cancer, Children at Risk, and many dozens of other organizations.
Recently MyCityRocks supported Lemonade Day efforts around the world, making a substantial financial donation, and providing extensive event publicity. Lemonade Day teaches young kids around the world how to become entrepreneurs and start their own business.
A Lemonade Day discount code was also publicized for the MyCityRocks Ticket Exchange - when used, the discount code provided each customer a discount on their ticket order, along with an additional donation being made to Lemonade Day by MyCityRocks.
"Because of long-time supporters such as MyCityRocks, Lemonade Day is able to reach even more kids and inspire them to start a lemonade stand business. Cliff and his contributions to the community are an inspiration for thousands of future entrepreneurs," noted Lemonade Day Executive Director, JC Perez.
MyCityRocks also was involved when renowned comedian Greg Giraldo unexpectedly passed away in September 2010, leaving behind three young sons. Giraldo, a Harvard-educated lawyer who became a stand-up comic, was best known for his appearances on Comedy Central's televised celebrity roast specials, as well as for his work on that network's television shows Tough Crowd with Colin Quinn, Lewis Black's Root of All Evil, and the programming block Stand-Up Nation, the latter of which he hosted. Greg had been a friend to MyCityRocks in the past when he had performed in Houston. When a benefit show featuring Jerry Seinfeld, Jim Norton, Dave Attell, Ted Alexandro, Lewis Black, Judy Gold, Colin Quinn, and Jesse Joyce was planned this past February in New York City, MyCityRocks promoted the show and its tickets, and the company made a donation to the Giraldo Children's Fund, doubling the amount the company had received in commissions related to ticket sales for the event.
About MyCityRocks
MyCityRocks is a global social engagement venture that connects with people online to help them do fun stuff offline, bridging the gap between online social networking and offline real-world activity in a way that is fun, innovative and exciting. MyCityRocks focuses on helping people: 1) HAVE FUN by enjoying local culture and entertainment; 2) GIVE BACK to their local community and make their part of the world a better place to live; and 3) REPRESENT their pride and spirit for their city and the things in life they are passionate about. MyCityRocks is a privately held corporation with headquarters in Houston, Texas. For additional information on MyCityRocks, please visit http://www.MyCityRocks.com.
MyCityRocks was founded by Executive Director Dr. Cliff Kurtzman. Cliff came to Houston in 1988 with a Ph.D. in Astronautical Engineering from MIT, and worked building spacecraft for a few years with a commercial space engineering startup called Space Industries. With a bit of help from NASA, in 1994 Cliff started one of the first online marketing companies in the world, and the very first one in Houston. Then in late 2003, Cliff used the MySpace social network to launch a testbed called "Houston Rocks", experimenting to see how social network tools could be used to create new types of communities. Based on the success of that testbed, in March of 2005, Cliff launched MyCityRocks to expand the concept out globally and develop it into a commercial venture. Cliff has been named by the Texas Ecommerce Association as one of 10 Texans playing a pivotal role in enabling the state's e-commerce economy, and as Entrepreneur of the Year by the Houston Chapter of the Entrepreneurs' Organization. For additional information on Cliff, please visit http://www.kurtzman.biz.
###