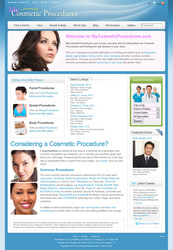 Tampa, FL (PRWEB) March 11, 2010
MyCosmeticProcedures.com is a new website focused on plastic surgery and cosmetic procedures. The site seeks to provide medical information to patients who may be considering cosmetic surgery or non-surgical procedures to improve their appearance.
The articles on MyCosmeticProcedures.com discuss plastic surgeons and plastic surgery procedures of the face, breast and body including Breast Augmentation, Breast Reduction, Breast Lift, Lip Augmentation, Rhinoplasty, Smart Lipo, Liposuction, Blepharoplasty, Arm Lift, Necklift, Facelift, Brow Lift, Thigh Lift and Total Body Lift. The site also covers topics for Skin & Spa treatments such as Laser Hair Removal, Laser Skin Resurfacing, Chemical Peels, Dermabrasion, Microdermabrasion, and wrinkle-correction using BOTOX® and injectable fillers such as JUVÉDERM®. Articles discussing procedures focus on summarizing the procedure as well as what to expect during a typical consultation, before, during and after the procedure. The site discusses general cosmetic surgery recovery times, side effects, risks and complications, and encourages patients to have realistic plastic surgery expectations.
MyCosmeticprocedures.com also serves as a resource for those looking to find a plastic surgeon or cosmetic dermatologist in their local area. Visitors to the Website can use the "Find a Doctor" feature to search and browse nearly 280 listings in cities across 40 U.S. states including Los Angeles, Miami, New York, Atlanta, Houston, Phoenix, Charlotte and others. Users can enter a city or zip code and define a search radius. Once selected, the Website quickly returns a list of providers in that area and displays the results in a Google-powered map.
Visitors can review a listing, see a photo of the doctor, map directions to their offices and contact them via the Website to ask questions or schedule a consultation. The number of plastic surgeon and cosmetic dermatologist listings on the site continues to grow everyday as more and more providers choose to list their practices on the Website.
In January of 2010, MyCosmeticProcedures.com launched a plastic surgery Before and After photo gallery. Visitors can view Before and After photos of patient post-operative results provided by doctors listed in the directory. The Before and After photos gallery can be viewed for facial, breast, or body procedures, and is broken down into procedure-specific albums and provider-specific galleries. The Website's plastic surgery Before and After photos are presented using a high quality slideshow with a sleek and intuitive user-interface for best viewing.
For plastic surgery questions that may not be answered in an article on the site, MyCosmeticProcedures.com hosts a regular column "Ask the Experts" where visitor questions are answered by a featured plastic surgeon or cosmetic dermatologist from the site's directory. The Website also contains a Blog featuring insightful articles and news regarding trends and current advances in plastic surgery and cosmetic dermatology. The "Cosmetic Procedures Blog" is available as a syndicated RSS feed. Recent topics include recent advances in laser-assisted liposuction and "Breast Implants 101," a continuing series discussing breast augmentation implants and the many options available to patients.
The Website plans to continue to grow by expanding content and specialties, increasing listings, and improving functionality as it raises its visibility on the Web through 2010.
MyCosmeticProcedures.com is socially active and can be found on Facebook and Twitter, where the site regularly "Tweets" beauty tips and other information under the name @CosmeticSite.
About
MyCosmeticProcedures.com was launched in Q4 of 2009. The Website is geared towards the patient community and offers information regarding cosmetic procedures, dermatological treatments and plastic surgery. MyCosmeticProcedures.com is for patient education and doctor referral purposes, and does not provide medical advice, diagnoses or treatment.
###