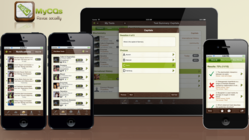 With MyCQs students potentially have access to hundreds of tests which they can carry in their pocket and practice anytime, anywhere
(PRWEB UK) 17 October 2012
Two medical students from the University of Leeds (UK) have created an innovative smartphone app called MyCQs that lets students with an iPhone or iPad create their own Multiple Choice Questions (MCQs) and then share them with their friends on Facebook.
The MCQ format, where students are presented with a question or statement and asked to choose the correct answer from a list of 4-5 different options, is being used in an increasing number of exams in schools, colleges and universities. The app's social abilities are further promoted with users being invited to rate and comment on other people's tests, and to share their own results via Facebook, Twitter and email.
Developer Omair Vaiyani said "We're both really proud of the app, there is nothing like this on the app store at the moment, and so far we've had some really positive feedback from both students and teachers. Hopefully people will find MyCQs to be not only useful, but fun too!".
"We're in the 21st century: we stream, post and tweet, but when it comes to revising, most students are still sitting behind a desk surrounded by dog-eared textbooks, illegible notes and empty cans of Red Bull. We want to change that", the app's other developer, James Gupta declared, "With MyCQs students potentially have access to hundreds of tests created by themselves, their friends and other people on their course which they can carry in their pocket and practice anytime, anywhere".
Whilst they could go into details, the developers say that they are "in communication" with a number of educational organisations who are keen to adapt their content and make it available through the app.
MyCQs can be purchased on the App Store for £0.69 ($0.99)
More details about MyCQs can be found at the app's official website
For more information including images, interviews and a free review copy for journalists and bloggers please contact James Gupta (details attached)