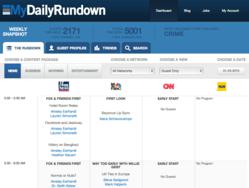 "MyDailyRundown will enable TV producers to easily keep track of the guests and topics airing each day," said George Uribe.
Miami Beach, Florida (PRWEB) January 31, 2013
MyDailyRundown launched from the National Association of Television Program Executives (NATPE) Conference, a high-profile networking event of professional media executives working together to enhance emerging media endeavors. MyDailyRundown is the first of its kind web application that tracks television news to create industry intelligence. Its distinct and innovative features lay in its three core features: the rundown, the guest profiles and the television news trends. With one click, users have all of the most important information is at their fingertips. Users can log on at https://mydailyrundown.com/.
With the RUNDOWN, users are able to see a daily, in-depth snapshot of television news—one segment, guest and topic at a time. This feature offers powerful industry insight.
For the GUESTS, users can view the comprehensive profiler consisting of bios, pictures and recent appearance information, making it easier than ever to know the guests and talent of television and connect with them.
The TRENDS page shows a compilation of the week's most popular guests and topics on television. Users can take advantage of the advanced tracking technology to ask better questions, get better answers and make better decisions.
MyDailyRundown co-founders George Uribe (President and CEO) and Tyler Ward (COO) are confident users will find value in this application because it will provide them with the most relevant, pertinent intelligence. "Our rundown will enable TV producers to easily keep track of the guests and topics airing each day," said Uribe. "Public Relations firms can use the site to look for trends and topics, and TV producers will use it for story and guest ideas. Now television executives can use our report along side their ratings report to help them understand what guests and topics contributed the ratings each day."
For more information or to sign up for your free 7-day trial, please visit https://mydailyrundown.com/