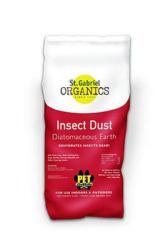 Colville (PRWEB) July 31, 2012
MyEcoGardens.com introduces Diatomaceous Earth - a great natural gardening product to get rid of pesky insects. Diatomarcious Earth is a naturally occurring soft siliceous sedimentary rock that is easily crumbled into a fine white to off-white powder. Diatomaceous Earth consists of fossilized remains of diatoms. Diatoms are microscopic shells created by single-celled algae found in plankton.
Diatomaceous Earth is used as an effective insecticide, due to its absorbent properties and abrasive quality. The fine powder absorbs lipids from the waxy outer layer of insects' exoskeletons, causing them to dehydrate. Without the insects' exoskeletons protective layer, the insects quickly dry up and die. Medical grade Diatomaceous Earth is sometimes used to de-worm animals. It can be used to help control and eventually eliminate cockroach and flea infestations. This material also has a wide application for insect control in grain storage. Diatomaceous Earth can be used to remove external parasites from people and animals, and can be spread on crops to kill insects without dangerous chemicals. Some farmers even add a very small amount of Diatomaceous Earth to their livestock's feed to control internal parasites.
Freshwater diatomite can be used as a growing medium in hydroponic gardens and potted plants, particularly as bonsai soil. Bonsai enthusiasts use it as a soil additive, or pot a bonsai tree in 100% Diatomaceous Earth. Like perlite, vermiculite, and expanded clay, it retains water and nutrients, while draining fast and freely, allowing high oxygen circulation within the growing medium.
Diatomaceous Earth has many different uses for the home and the garden. There are several different types that exist and they are an ideal product for the home because it is completely non-toxic and environmentally friendly. Many household product are harmful to the environment, to people and especially the garden area where you probably are eating the fruits of your labor. This is why Diatomaceous Earth is such a great products because you can eliminate those harmful chemicals from your home and garden. Diatomaceous Earth is a revolution in creating a chemical free and healthy home. One of those uses for Diatomaceous Earth is cat litter. Diatomaceous Earth's high porosity makes it very absorbent. Liquid is quickly absorbed and trapped by all the tiny pores in the diatom's shells. This absorbency makes Diatomaceous Earth a key ingredient in some brands of cat litter. It is also used to clean up spills, especially of dangerous or toxic chemicals. When the chemical is completely absorbed in Diatomaceous Earth, it is prevented from spreading and can be more easily removed.
Diatomaceous Earth is truly an under-appreciated substance that performs a wide variety of tasks. It already acts as a safe insecticide, an efficient filter, and a spill cleaner. Who knows what other uses people might find for these humble fossils?
MyEcoGardens is a reliable site that provides quality products to your home for your gardening needs. My goal is to provide a wide ranging and unique product line, at the highest level of quality and service available, and to do so as efficiently as possible.