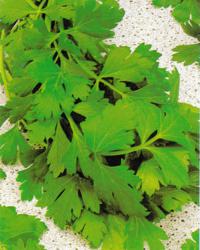 (PRWEB) August 16, 2012
Natural herb gardens are easy and very satisfying as well as an inexpensive way to spice up any meal and http://www.myecogardens.com has a wide variety of wonderful herb seeds. A small amount of effort is soon rewarded by a wonderful array of shape, color, texture and taste. Natural herb gardens are accommodating because they can be planted in a garden, patio or even the kitchen. Many gardeners cultivate herbs in containers, which is an excellent idea if space is limited. The wide range and variety of herbs make it easy to introduce them into any garden, whatever its size or design. When herbs are grown they will quickly reward you with vigorous, healthy growth with luxuriant foliage and rich aromatic perfumes.
With today's ever-increasing interest in going green and eco-friendly, natural herb gardens have once more come into its own. Herbs are ideal to make a garden that is unique and individual, and always reflects the personal taste of its creator.
Growing culinary herbs from natural herb gardens can be extremely satisfying. They can transform everyday dishes, stimulate the appetite, aid in a balanced diet, and help improve almost all foods. Culinary herbs have highly flavored leaves, stems, flowers or seeds and benefit from regular harvesting which helps to keep them pest free and encourages strong, healthy growth. Most species are hardy and can be grown as near to the kitchen as possible for ease of access in all kinds of weather conditions. The most used culinary herbs are basil, bay, chives, marjoram, mint, parsley, rosemary, sage, tarragon and thyme.
Some perennial herbs need special treatment in order to survive the winter well. Rosemary, for example, is too tender to overwinter outside, so dig them up in the fall and bring them inside for an aromatic winter houseplant. You can also use the cuttings to start new little plants for spring. MyEcoGardens.com/index.php?dispatch=categories.view&category_id=81 [Parsley __title__ Parsley, natural herb garden], chives, marjoram and thymes also make nice window garden plants for the winter. Lavender, tarragon, lemon balm, pennyroyal, and sage will do fine outdoors in the winter but they like a heavy mulch to survive better, especially if they are young. Remove the mulch as soon as the frost is over in the spring.
The conditions and quality of the soil is important to every natural herb garden. The secret to successful natural herb gardening is rich, fertile soil. If you aren't already composting, start now! Turn your yard waste and kitchen scraps into compost, the "black gold" of gardening. Composting is a pretty amazing process. It recycles nearly any living matter back into a stable elemental soil that can feed the next generation of plants. In addition to yielding a rich growing soil and recycling our food and yard waste, the process itself has far-reaching benefits for cleaning up our world.
MyEcoGardens is a reliable site that provides quality products to your home for your gardening needs. My goal is to provide a wide ranging and unique product line, at the highest level of quality and service available, and to do so as efficiently as possible. Thank You.