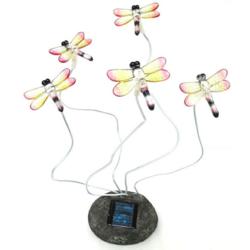 Colville, Washington (PRWEB) August 28, 2012
MyEcoGardens.com has an exciting new solar light product that would make a perfect addition to anyone's natural gardens, deck or patio. This Blinking LED Dragonflies Solar Light features five blinking LED dragonflies. The lighting is powered by the sun, and is recharged by solar panels under sunlight.
These solar lights have the cutest dragonflies that are blinking LED that turns on automatically when it gets dark and provides up to 10 hours light. Using LEDs are quite possibly the most popular and widely used forms of solar energy. Because of the low cost and low power consumption of LEDs, LED solar lights are extremely affordable. LEDs last for 100,000 hours (on average) so they will look great for years and years, and is a perfect compliment to a natural garden, or any landscape, patio or deck. The dragonflies will look awesome at night as well as during the day. They are ideal anywhere a conventional electrical supply is not available because no wiring is needed. LED are very energy saving and economical and gives off super LED light output.
This dragonflies solar light required a rechargeable Ni-Cd AA battery which is included. The battery is rechargeable and should last for approximately two years before needing to be replaced. The dragonflies solar light is also safe and water-resistant, is CE certified and corrosion resistant.
The dimensions of this dragonflies solar light is 5.0x5.0x10.0 and for a limited time shipping is free.
MyEcoGardens is a reliable site that provides quality products to your home for your gardening needs. My goal is to provide a wide ranging and unique product line, at the highest level of quality and service available, and to do so as efficiently as possible. Thank You.