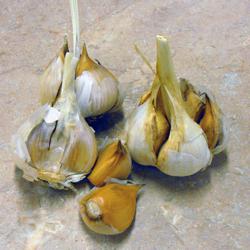 Colville, WA (PRWEB) September 06, 2012
Garlic month at MyEcoGardens is a terrific way to start your crop for next year. Garlic easy to grow and 1 or 2 cloves will produce pounds of bulbs. Garlic has solid, thin blade-like leaves, between 1 and 2 feet long. Underground it produces a rounded sheathed bulb, or head, that is divided into cloves. It is very hardy and can be grown in USDA Zone 2 and warmer.
No two people describe garlic the same, even when tasting the exact same clove. Garlic taste varies depending on soil, weather, culture, and length of storage. Garlic can be a great addition to your natural garden because it is one ingredient that is found both in the kitchen and in the medicine cabinet.
Garlic taste is complex. It includes not only a flavor, but aroma and texture. A really good raw garlic has the right balance of heat and flavor. Both should be enjoyable. Texture should not be grainy or greasy, and aftertaste must not be metallic or burning. Of course most people don't eat raw garlic at all. They prefer cooked or powdered garlic. Some strains taste bland as raw but rate highly when cooked or roasted. A grainy textured garlic might make great pesto.
Timing is essential to the success of planting garlic. The best time to plant garlic is in the fall because garlic will benefit from exposure to cold. They will need to be planted two or three weeks after the first killing frost, so that roots and shoots begin emerging from the clove. Planting during this time frame is essential, as it allows for root development. For more northern regions this can be early fall, and for more temperate regions this can be as late as December. Garlic can be planted in the spring but it often will develop weak shoots and poor bulb development.
Garlic does not easily produce seeds, meaning that gardeners cultivate garlic from cloves instead. When preparing a garlic bed in the fall for these cloves, loosen the soil and plant in a well-drained and fertile soil. Plant each clove 2 inches deep, tip end up. Space the cloves 4 inches apart. Water them well and apply about 3 inches of mulch around the planting. Planting just two bulbs can yield a harvest of almost 30 bulbs.
MyEcoGardens is a reliable site that provides quality products to your home for your gardening needs. My goal is to provide a wide ranging and unique product line, at the highest level of quality and service available, and to do so as efficiently as possible. Thank You.