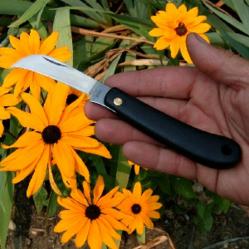 (PRWEB) September 25, 2012
MyEcoGardens is having a 5% discount on a great all-around knife for home, garden, or work. This high quality carbon steel knife has a Hawks-Bill blade that is suitable for pruning, grafting, and floral work. This is a knife that you will only need to buy once in a life time. It is quality crafted in Italy by Antonini. It has a C67-70 high carbon steel blade and a brass rivet high strength ABS plastic handle. The blade is 70mm (2.76") long and the knife if 100mm (3.94" long when closed.
As stated this garden knife is suitable for pruning or grafting. Pruning is a horticultural practice that involves selective removal of parts of a plant for the reason of deadwood removal, shaping or improving or maintaining the health of the plant. These parts can include buds, roots or even branches.
This little garden knife can be used for grafting which is a process that involves fusing two different plant types together. This process can help repair or regrow damaged plants by fusing multiple pieces of the same species together. For an example, trees can be made to grow in specific patterns through grafting, which can create ornamental plants. Grafting is also performed to study plant diseases and how they affect and transfer between various plants.
The garden knife can also be used as a florist knife. A florist knife is one of the few tools a floral designer can't live without. From cutting stems to shaping foam, the florist knife is a multi-purpose tool in the design room.
This particular garden knife is a wonderful, handy tool to have anywhere but MyEcoGardens also has other handy knifes that will also be offered with a 5% discount for your needs.
MyEcoGardens is a reliable site that provides quality products to your home for your gardening needs. My goal is to provide a wide ranging and unique product line, at the highest level of quality and service available, and to do so as efficiently as possible.