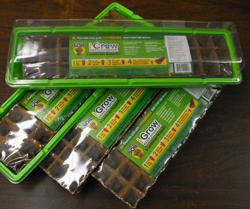 Colville, Washington (PRWEB) January 10, 2013
It is a new year and its time to start thinking about ideas and planing for an exciting 2013 gardening year. MyEcoGardens.com is excited about starting another year of gardening and is having a 10% off sale on seed starter kits. Most of the kits include everything to get seeds started from a mini greenhouse, plantable cell inserts, and enough Wonder Soil expanding pellets to fill the cells with a top-rated potting/seeding soil complete with organic fertilizers, mycorrhizae, and water-saving polymers.
The best reason for starting seeds at home is for the selection. MyEcoGardens has a huge variety of seeds that, if started in the house, will flurish and produce wonderous crops. January is the month of gathering everything that is needed to get the 2013 gardening year started. January is, however, not the time to start planting. It is hard to not want to start growing because of the winter blues, but if plants get started to soon they may languish inside. So for this month, gather all supplies needed to start off a great year of planting. Check the last date of frost in your area and group the seeds according to starting date. Remember that some seeds take longer to germinate than others. Here is a rough estimate of the lead time for some popular seeds:
Onions: 8 to 12 weeks before the set out date of 4 to 6 weeks before last frost.
Lettuse: 5 to 6 weeks before the safe planting-out date, which is 4 to 5 weeks before the last frost.
Cabbage, Broccoli, Collards: 5 to 6 weeks before planting out.
Peppers: 8 to 12 weeks before the last frost.
Wait until the weather is warm and settled to plant out peppers, eggplant, tomatoes, and melons.
MyEcoGardens is a reliable site that provides quality products to your home for your gardening needs. My goal is to provide a wide ranging and unique product line, at the highest level of quality and service available, and to do so as efficiently as possible. Thank You and Happy Gardening.
# # #