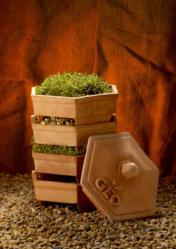 Colville, Washington (PRWEB) October 11, 2012
Sprouting is wonderful for your health and extremely handy if a person cannot garden. MyEcoGardens introduces sprouting as a wonderful addition to natural gardening and a natural organic way of eating that is extremely beneficial.
What is sprouting? Germination transforms the seed and triggers a series of positive changes. Enzymes then start to pre-digest, the starch is broken down into components that are simpler to digest and then the levels of vitamins goes up. After sprouting, the nutritional value of the seeds increases tenfold and brings the body vitamins and minerals that can be considered as bio-available and very healthy. Sprouts also have a highly alkalising effect. Eating sprouted grains and legumes can help maintain or re-establish an acid-alkaline balance in the body.
Sprouting is rich in vegetable proteins, iron, magnesium, calcium, B-group vitamins, essential fatty acids, phosphorus, potassium, copper, antioxidants and very rich in vitamin C.
If a person is passionate about the huge health benefits of sprouting, it should be no trouble taking the next step in growing them on their own. The basic process is very simple:

Choose healthy organic seeds from MyEcoGardens.com.
Soak them in spring or purified water. Once a seed has soaked up it's fill of water, it is considered alive! It is now a nutritional phenomenon with its own enzymes that give your body an amazing nutritional gift.
Rince them carefully - Given proper moisture a seed will germinate.
Germinate in a moist environment.
Leave in room temperature
Add a little light but nor direct sunlight.
Sprouts can easily be grown in the Terradisiena. Born from the art and expertise of Italian craftsmen, Terradisiena is the latest sprouter added to the GEO line. An innovative stacking system allows you to either space the trays individually to create a dark and damp environment, or allow air and light into the trays. Measures approximately 7 inches wide and 11 inches at full height. The natural terra cotta enhances maintenance of a moist environment for the seed, and the beautiful design looks great in any decor. There are also many other great Sprouters avaiable at http://www.MyEcoGardens.com
MyEcoGardens is a reliable site that provides quality products to your home for your gardening needs. My goal is to provide a wide ranging and unique product line, at the highest level of quality and service available, and to do so as efficiently as possible. Thank You.