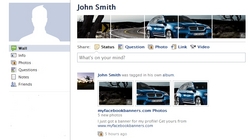 Everyone needs a simple way to customize their Facebook Profile.
Bethpage, NY (PRWEB) April 18, 2011
myFacebookBanners is a website that allows the user to add facebook banners to the tagged images area of their Facebook Profile. It was created by GraphicFlash LLC, a web design company which is a joint venture created by two college students who share a mutual interest in creating innovative websites. The idea was born when they noticed that their friends were using the new recently tagged images of their Facebook Profiles to put up sayings and images. They decided to do what they do best: create a system that allows people to easily create a facebook banner on their profile.
The site allows for two different methods of banner creation. One option is for the user to upload an image from their computer and create a banner out of that. The other option is to select one of the ever-growing numbers of designs that already exist on the site. These are created by a team of designers and through a new system, users can select banners created by other users.
myFacebookBanners is a challenging competitor to the larger FBanners and ProfileGen websites, which offer a similar product. It features a better banner creator, which was developed with user-friendliness in mind by GraphicFlash LLC. It also offers a cleaner, friendlier site that is easier to navigate than its competitors. myFacebookBanners regulates its advertisements to areas of the page that will not distract the user from what they came there for. Additionally, it is constantly in development, and since user-added banners can be approved and added to the site, there are many more banners being added daily.
The developers at GraphicFlash LLC were very excited to release their service. What they could not have foreseen was how popular it would become. Just a month after its launch date, they saw a sudden and steady increase in traffic. Now, myFacebookBanners boasts more than 30,000 users and over 10,000 Likes on their Facebook page, numbers which grow every day. myFacebookBanners has grown far from it humble beginnings into a website which is a useful tool for many users of Facebook.
Given the success of their service, the developers at GraphicFlash LLC are very excited about the future of myFacebookBanners. They are constantly thinking of ways to improve the site. Their most recent addition, an approval system for user-created banners to be added to the site, is just one example which shows the attention that the developers pay to the site. With its ever growing number of users, myFacebookBanners has a huge potential to be a very big name on the Internet.
###