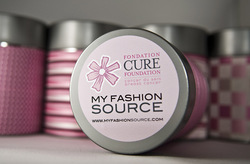 "We wanted to find a way to provide great ties and cufflinks at great prices, and more importantly, to help a cause that's really important to us. We feel Tie Up The CURE™ is the perfect way to do it," says Jeremy Goldenberg, one of the website's founders
(PRWEB) December 24, 2009
PearlWhiteMedia has officially launched My Fashion Source, a new online store delivering a massive variety of the most stylish men's ties and cufflinks at the best prices on the Internet. In addition to having exclusive designs for every taste, My Fashion Source has teamed up with CURE Foundation in the battle against breast cancer by creating the Tie Up The CURE™ campaign. Under this campaign, part of the proceeds from every single purchase of any of their products will go directly into the search for the CURE.
"We wanted to find a way to provide great ties and cufflinks at great prices, and more importantly, to help a cause that's really important to us. We feel Tie Up The CURE™ is the perfect way to do it," says Jeremy Goldenberg, one of the website's co-founders.
My Fashion Source is showing its support for the CURE by providing a specific line of exclusive pink Tube Sets, each containing a stylish pink Ziano Platinum tie, a matching set of cufflinks, and a sleek, matching pocket handkerchief. With the prestigious look of this three-piece set, its discount price is almost unbelievable.
In addition to the Tube Sets, My Fashion Source offers an enormous selection of ties including silk ties, polyester ties, skinny ties and pleated ties in countless colors and styles. They offer these products at prices they guarantee will satisfy every customer. Their selection of cufflinks is equally extensive. Whether one is searching for novelty cufflinks, or elegance and style, My Fashion Source has the perfect cufflinks at the best prices.
Josh Bilerman, Jeremy Goldenberg & Alfredo Cristinziano the co-founders of My Fashion Source, pride themselves on providing a perfect customer satisfaction experience. They offer secure payments via PayPal or credit card checkout, and every product will be shipped lightning fast, with orders over $75 enjoying free shipping.
"It's really a great combination," says Josh Bilerman, the CEO and co-owner, "The ties and cufflinks are high quality and stylish. The prices are extremely competitive. We challenge anyone to find a better price on any of our products anywhere else on the Internet, because they won't. The best part is that by ordering anything from the site, you're directly contributing to the search for a CURE for breast cancer."
With this unique combination of beautiful ties and cufflinks for every occasion, unmatched prices, excellent customer service and helping to find a CURE for breast cancer, My Fashion Source is well on its way.
###