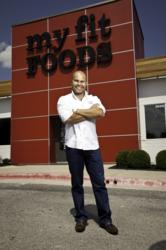 Houston, Texas (PRWEB) September 10, 2012
Obesity causes millions of lost workdays and costs billions of dollars to American businesses every year. In an effort to improve the health, productivity, and quality of life of the corporate employee, locally-based healthy meal provider, My Fit Foods, has launched a national strategic Corporate Wellness initiative. As the initiative rolls out in Houston, My Fit Foods kicked off a 21 day Corporate Wellness Challenge this past Saturday, September 8th among employees representing eight area companies. Health service company Cigna is sponsoring the Challenge.
The 21 Day Corporate Wellness Challenge will include eight Houston companies that are Cigna clients. Among those participating are Al's Formal Wear of Houston, Century AC Supply, City of Humble, Delta Card Services, FKP Architects, General Plastics & Composites and Vinmar International
"The purpose of this Challenge and Cigna's own wellness programs is to help employers motivate and engage their employees to be healthy," said Mike Koehler, president and general manager for Cigna in Houston. "Unhealthy behaviors drive up health care costs and directly impact employee productivity, so a focus on wellness education and healthy decision-making can help Houston companies unlock their full potential."
As part of the 21 Day Challenge, participants will receive an on-site consultation from a My Fit Foods nutritional coach, a customized meal plan, three meals and two snacks per day in line with that plan, and a 21-day workout calendar. In an effort to improve current levels of physical activity, participants will self report their physical activity levels before and after the 21 day Challenge. They are encouraged to participate in a local 5K in addition to following the workout calendar provided by My Fit Foods.
Each company is required to have a minimum of 10 employees participating. The companies will compete for prizes for reaching their health and fitness goals, with one overall winner from each company and one overall winning company at the time of completion.
The 21 Day Corporate Wellness Challenge winners will be determined by the highest percentage of body weight lost at the end of the 21 days.
The My Fit Foods Corporate Wellness program is designed to assist companies by providing them with the tools they need to make employee wellness a priority. By providing education tailored to a company's specific needs, My Fit Foods is on a mission to change behaviors through developing a culture of health in the workplace.
The My Fit Foods 21 Day Challenge is a customized meal plan and education program designed to assist individuals in reaching health goals such as restoring natural energy, boosting metabolism, decreasing body fat, and detoxifying the body by eliminating common diet toxins such as caffeine, alcohol, and artificial sweeteners for 21 Days. The meal plan is customized based on client specific goals, activity level, food preferences and allergies, medications, gender, age, height, and weight.
On average, the typical 21 Day Challenge client reports weight loss between 6 to 15 pounds +, increased energy levels, improved digestion, reduction in overall triglycerides and cholesterol, lowered blood pressure, and reducing or eliminating medications.
The My Fit Foods 21 Day Corporate Wellness Challenge sponsored by Cigna will take place between the dates of September 8, 2012 – September 28, 2012. On September 29th, My Fit Foods will host an awards ceremony open for media attendance at the My Fit Foods, Memorial Park location (5535 Memorial Drive, Suite O Houston, Texas 77007) from 9am-11am.
About My Fit Foods:
Founded in Houston, Texas, My Fit Foods is a take-out operation for healthy, pre-portioned meals and snacks. My Fit Foods is dedicated to making sure that every meal they create is not only healthy, but also balanced. The staff at My Fit Foods weighs every single ounce of protein and carbohydrates to make sure the body is always getting the right amount of nutrients it needs in its fresh pre-portioned meals to go. With over 60 meals to choose from including breakfast, lunch, dinner, and snacks, My Fit Foods makes eating healthy convenient and affordable.
My Fit Foods, which was founded in 2006 by Mario Mendias out of his apartment kitchen in Houston, began with one mission in mind, making eating healthy, simple, and affordable! "This is something that needed to be done!", states the enthusiastic former marine and personal trainer. My Fit Foods now has over 50 locations between Texas, Arizona, California, and Idaho. My Fit Foods is growing fast to keep up with the high demand for its products and services throughout the nation.
"Clients working their tail off in the gym and not getting the results they should…every personal trainer's nightmare. As a personal trainer, I knew that nutrition was 80% of my client's health and fitness goal, but it was the one part I could not control…or could I?"- Mario
My Fit Foods was founded in 2006 in the apartment kitchen of a personal trainer who was dedicated to ensuring his client's achieved the results he promised. Out of the spirit of service, founder Mario Mendias, started cooking meals for his clients who were too busy to shop and prepare healthy meals with a time crunched schedule. The client's fitness results spoke for themselves! Soon Mario was not only cooking for his clients, but all the clients in the gym.
In 2007, Mario outgrew his apartment kitchen and partnered with restaurant pioneer, Anthony Milton (My Fit Foods CEO) to create My Fit Foods and expand the mission to provide fresh, healthy foods to go that taste great at an affordable price. The menu expanded with additional meals and snacks all focused on lean protein, low glycemic carbohydrates and heart healthy fats.
My Fit Foods was founded in the spirit of service, and we continue that spirit today through our kitchens, stores, schools and communities. Whether you are in need of a quick meal or snack on the go or want take advantage of the convenience and results of our 21 Day Challenge, we are here to make healthy living a reality.