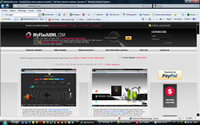 Sporting a rich new collection of website designs with simple to edit xml text files (via notepad for example) or with adapted CMS (content management system), MyFlashxml re-invent the flash templates with fluid design and create advanced flash websites
(PRWEB) February 18, 2010
MyFlashxml.com includes several galleries of dynamic flash website templates designed for the user to easily modify the content via an XML code or with CMS (The user doesn't need to edit the flash file anyway). Categories include classic designs and explorative designs for artists or photographs for example. For the last years the internet has been growing exponentially and now, no business, even the smallest, can afford to be invisible on the internet and refrain from creating a good web presence. Using the xml website templates is an easy, affordable and efficient way of achieving the final result quickly.
With his rich new collection of flash website templates simple to edit via xml text files (via notepad for example) or with customized CMS (content management system), MyFlashxml's offer is may be a new step in the flash templates industry. Incorporating contemporary design and a very easy editing and updating system.
Aside from the xml flash website templates gallery, MyFlashxml also includes a premium CMS and a Full flash Ecommerce templates gallery where users can browse through a rich assortment of database driven Flash templates (With a secure web based admin access). These CMS Flash templates are dedicated to those who want to be able to edit and update their website at any moment and from anywhere. The user will be able to add or remove sections, sub sections, pics, text, videos, music, directly from any connected computer.
Any order also include a free assistance. The team is dedicated to the user for any help with no time limit.
MyFlashxml.com's xml driven flash website templates are often used to create small business websites, photography websites and personal websites but also websites for major companies. Websites are also Ecology friendly being used as a substitute for hardcopy resumes, brochures and other promotional materials. Xml/CMS flash website templates provides a viable and effective solution.
Myflashxml.com was established in 2004 in Delaware by a group of web designers who decided to work together to create a unique place for template users. As the world is in recession, innovative solutions such as Xml/CMS flash website templates easy to use is replacing slowly the older, more conventional services, as in the case of conventional designers. That is why, in the midst of a financial crisis MyFlashxml.com is able to be a practical and attractive solution for those who wish to create customisable and premium design websites without spending too much.
###