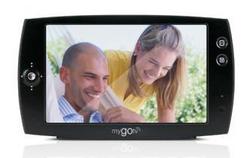 New York, NY (PRWEB) October 6, 2010
Innovative DTV Solutions (IDTVS) is the sales, distribution and marketing arm of a dynamic Korean-based consumer electronics research, development and engineering company. IDTVS has the perfect gift for all the TV lovers - 7" PORTABLE WIDESCREEN DIGITAL TV Model DPT170D+. The unit is completely digital and ATSC compliant, which ensures superior picture quality for all its users.
The DPT170D+ portable widescreen digital television is perfect for the on the go TV watchers. It allows viewers to bring along the favorite live programs wherever they go. Great design and shape allows the users to carry it easily anywhere. Considering the latest fashion trends and to meet the future standards it is designed with unbeatable picture caliber. When compared with larger television sets it has got almost all the features embedded into it. Having DPT170D+ portable television enables users to access free digital channels over the air virtually from anywhere.
As this is designed considering the latest fashion trends, they are available in different fashion colors. You can use it anywhere such as in your office, kitchen counter, or even at sport events and virtually anywhere where you wish to watch television.
It comes with a built-in rechargeable Li-poly battery, speakers and inbuilt TV tuner card which are ATSC compliant. Apart from batteries you can use it on AC. One can easily recharge the batteries on move with the help of the car charger. While you watch TV on AC it gets automatically recharged. The additional features included with this 7" portable widescreen television are onscreen program information display, direct channel changing, favorite channel setting, channel search & channel editing etc. It features an 800 x 480 digital RGB display for true HDTV. These are available in varied fashionable colors.
The greatest feature of DPT170D+ portable TV is that it allows you to watch digital channels without the necessity of any additional components or subscription service.
About IDTV:
Innovative DTV Solutions, Inc. US headquarters are based in Santa Fe Springs, California. Incorporated in 1995, the company sales, marketing and distribution capabilities originated from its role in providing the largest US share of digital converter set-top boxes for the 2009 digital conversion program. With a strong Korean based background in design, engineering and research of digital tuner technology, IDTV is poised to provide advanced HD PVR and introduce mobile DTV life-style oriented products with fresh designs and purposeful features in 2010.
For more information visit http://www.myGOtv.com
###