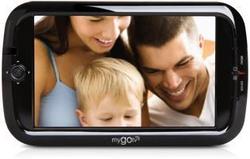 (PRWEB) October 30, 2010
Innovative DTV Solutions will join with CEA's PlugFest for the meeting on November 1st through 4th. CEA PlugFest is a technology event that allows participating companies to test interoperability of their devices. More than three dozen engineers from around the world participated in PlugFest2, which focused on testing the recently approved ATSC A/153 Mobile DTV standard. ATSC Mobile DTV makes local, digital broadcast TV portable for consumers to watch on the go.
This event expanded on the success of CEA's first ATSC Mobile DTV PlugFest last December and hosted 19 companies and 38 participants. The PlugFest utilized six independently developed transmission systems to test against several receiver systems that consumers will buy as the ATSC Mobile DTV service rolls out in U.S. cities beginning in 2010.
The ATSC Mobile DTV standard was initiated with a call for proposals in 2007 and culminated in final approval on Oct. 15, 2009. ATSC developed the Mobile DTV standard, while the Open Mobile Video Coalition and consumer electronics manufacturers worked through a CEA special interest group to move the technology from concept to standard to working products.
About IDTV: (http://www.mygotv.com)
Innovative DTV Solutions, Inc.'s US headquarters are based in Santa Fe Springs, California. Incorporated in 1995, the company's sales, marketing and distribution capabilities originated from its role in providing the largest US share of digital converter set-top boxes for the 2009 digital conversion program. With a strong Korean based background in design, engineering and research of digital tuner technology, IDTV is poised to provide advanced HD PVR and introduce mobile DTV life-style oriented products with fresh designs and purposeful features in 2010.
###