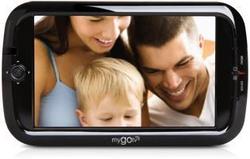 (PRWEB) October 29, 2010
HSN and Innovative DTV are partnering once again to provide one of the kind portable TV – MYGOTV 3.5" Portable Digital Television. The pocket digital TV is ideal for use in your office, kitchen, picnics, and can be used at sports events.
This compact and ultra-portable TV fits easily in a pocket or purse and offers high reception of analog and digital over-the-air programming. That's free off-air DTV channels from 2 to 69. The best part of having this TV is that it lets you free from having subscription services. MYGoTV features 3.53 LCD with ATSC/NTSC tuner, built-in speakers and headphone jack. It small enough to carry, yet you don't have to compromise the picture quality. MYGoTV has the ability to pick up weak signals due to its built-in embedded Antenna. Compared with other leading brands, MYGoTV has the best reception strength.
Plus, it's powered by easy-to-find AA batteries, which offer up to 2 hours of playback, making it perfect for travelers. MYGoTV is also great in case of emergencies. During power outrage, it becomes source of valuable information. It has been receiving great feedbacks from customers "I bought it for my 'Hurricane Preparedness Kit' so that I can access weather and news in the event of no electricity. I can't believe how clear the picture is. I have tried it in other areas and have been able to access multiple stations"
Every time MYGOTV has shown in HSN, it has been sold out. HSN will air MYGOTV 3.5" during Thanksgiving season.
About IDTV: (http://www.mygotv.com)
Innovative DTV Solutions, Inc.'s US headquarters are based in Santa Fe Springs, California. Incorporated in 1995, the company's sales, marketing and distribution capabilities originated from its role in providing the largest US share of digital converter set-top boxes for the 2009 digital conversion program. With a strong Korean based background in design, engineering and research of digital tuner technology, IDTV is poised to provide advanced HD PVR and introduce mobile DTV life-style oriented products with fresh designs and purposeful features in 2010.
###