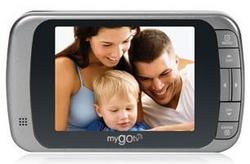 New York, NY (PRWEB) October 2, 2010
Innovative DTV Solutions (IDTVS) is the distributor and marketer of stylish home entertainment products, has got just right solution for college students and TV watchers who wish to have an easily transportable TV for their room or apartment - 3.5" LCD POCKET DIGITAL TV Model DHT235D. With the transformation of analog to digital signal any individual wanting a television in his room needs to have a digital capable set. But with 3.5" LCD pocket digital TV you can experience the same old kind of entertainment but with digital output. When compared to earlier sets this is much user friendly and offers exceptional portability.
With its thin profile and light in weight offers high quality reception. This modern and portable television can be operated using batteries and on AC. The analog sets which were used earlier are useless now. With the help of portable digital TV one can enjoy favorite programs sitting anywhere. The 3.5" LCD pocket digital TV is a state of art inexpensive solution that ensures your entertainment anytime and anywhere. This can be the perfect solution for watching cartoon shows every Saturday mornings, sports, music and even can be the source for your educational programs.
The best part of having it that it lets you free from having subscription services or the additional hardware which use to be earlier. It lets you watch all the channels without connecting the analog set to a digital TV converter box, which in most of the cases is much larger than the TV itself. The stylish design and portability in nature allows you stay in touch with all your favorite programs.
Bright 3.5" LCD color display offers a digital RGB resolution of 320 x 240, which provides the best picture and sound quality. Accessories shipped along with this pocket digital TV is: AC adapter, AV Cable, Remote control and a protective carrying pouch. The portable design allows users to carry it easily along with them. This slim set is available in wide range of colors.
The pocket digital TV is ideal for use in your office, kitchen and can be used at sport events. Moreover, this can add to your entertainment when you are on picnics.
About IDTV:
Innovative DTV Solutions, Inc. US headquarters are based in Santa Fe Springs, California. Incorporated in 1995, the company sales, marketing and distribution capabilities originated from its role in providing the largest US share of digital converter set-top boxes for the 2009 digital conversion program. With a strong Korean based background in design, engineering and research of digital tuner technology, IDTV is poised to provide advanced HD PVR and introduce mobile DTV life-style oriented products with fresh designs and purposeful features in 2010.
###