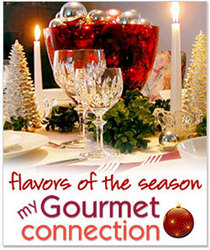 Orlando, FL (PRWEB) December 10, 2009
The hectic pace of the holiday season can sometimes leave even the best cook feeling uninspired. Fortunately, MyGourmetConnection.com serves up a wealth of new recipes, holiday menus, entertaining tips and gift ideas daily to help make holiday gatherings memorable and delicious.
Cooks can find a new holiday-appropriate recipe daily, including cookies, desserts, appetizers, entrees and side dishes, in MyGourmetConnection.com's Holiday Recipe Countdown.
Some of the featured recipes are:

Orange Rosemary Biscotti
Eggnog Cookies with Rum Icing
Chicken with Pomegranate-Ginger Cream Sauce
Blue Cheese, Mascarpone and Pear Bites
Bacon-Wrapped Scallop Rolls
Raspberry Rugelach
In addition to original, delicious recipes, MyGourmetConnection.com offers complete menu plans, which include recipes for appetizers, main courses, side dishes, and desserts. The food-savvy editors have even included wine suggestions and table decor to further assist with holiday planning. Start off the holiday season with the "Deck the Halls Make-Ahead Dinner" and "Homespun Hanukkah Celebration" menus. Plan ahead with "An Old World Christmas Dinner" and "Tapas-Style New Year's Eve," coming soon.
Wine and spirits connoisseurs can keep warm and spirits bright with special features on "Warming Winter Beverages" and "Festive Holiday Cocktails."
For shoppers looking for gifts for the food lovers on their lists, MyGourmetConnection.com has plenty of great suggestions in the following gift guides:
Great Foodie Gifts Under $50
Cookbook Picks for Holiday Gifts
Holiday Decor for Food Lovers
Holiday Cookie Essentials
Stocking Stuffers for Your Favorite Foodie
Give, Drink and Be Merry (coming soon)
About MyGourmetConnection.com
MyGourmetConnection.com is an online magazine for people who love to make and enjoy great food. It's an ideal resource for home cooks of all skill levels, offering original easy-to-follow recipes, entertaining ideas, cooking tips, food finds, cookbook reviews, interviews, gourmet shopping directories and local dining information.
# # #