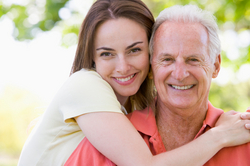 Beverly Hills, CA (PRWEB) October 26, 2010
LA actress, Tarta Smitheman is buzzing with the rest of Hollywood over the release of The Social Network, but not for the reasons you might expect. Social Media, for Smitheman, means something much more personal - it means family. MyHeartwill.com, is a new website built for private personal reflection and heritage sharing – the perfect platform for connecting the long lost and far spread Smitheman clan.
Raised in a close-knit mesh of parents, siblings and extended family, the only ostensibly missing figure was her grandfather. Aware that this patriarch had long since removed himself from her father's upbringing, she thought better than to ask too many questions. Rumor had it that he had started a new family - far across the nation, but there was no one who knew for sure; there was no way to verify.
Then, one un-expecting day, Tarta got an itch to explore the possibilities. She did a familial search, she wrote some e-mail…and got results. Tarta used social media to track down a lost branch of her family. Tarta would now be able to introduce her father to brothers and sisters he had never known he had!
But how? There was a national divide. There was complicated emotion. Public profiles had allowed the introduction, but private forums provided a better opportunity for family sharing. A network was needed; something that only the family could join. The history needed to be documented, but it needed to be discreet. Tarta Smitheman found Myheartwill.com. With the help of this website, the reunited family could create a sentimental and emotionally touching online network for the family, completely private to the outside world. It is through MyHeartwill.com that the Smitheman family has been able to share family stories, digital photo albums, videos, and other private memorabilia of their newly combined families.
As Hollywood is turning its concentration to the public life of social media, more people are searching for something a little more private. As the Smithemans discovered, MyHeartWill.com is an exciting new social media tool, specifically designed for the secure sharing and organization of private memories and the reinforcement of family heritage.
###