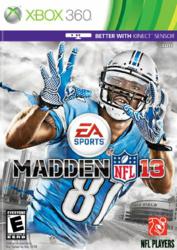 Detroit, MI (PRWEB) October 10, 2012
My Hot Electronics announces that the store is offering markdowns on many recently released Xbox 360 games including Madden NFL 13, Borderlands 2, NCAA Football 13, Resident Evil 6, and many more.
The following prices are available at My Hot Electronics while supplies last -
Madden NFL 13 - $46.84
Borderlands 2 - $55.90
FIFA Soccer 13 - $52.90
NBA 2K13 - $49.99
Resident Evil 6 - $49.40
The store also has deals on various Xbox 360 accessories including the 12-month Xbox Live Gold membership. Currently, the store has the membership card available at $43.99, 28% off the retail price. The card allows for users to play games online and watch various media services including Netflix, Hulu, Facebook and more.
The Xbox 360 wireless controllers are also on sale at My Hot Electronics, currently at the price of $32.75, 35% off the retail price. The controllers have a battery life of up to 40 hours on 2 AA batteries and a 30 foot range, allowing the consumer to have the controller just about anywhere in the room and be able to control the Xbox 360 device.
As mentioned earlier, the Madden NFL 13 game is marked down at the MyHotElectronics.com store. Its sister store, SportsFanPlayground.com, recently launched as a top carrier for leading sporting goods and apparel. Currently, the store has deals on various items for the NFL season from all of the top teams and players in the league. The store also has many collector's memorabilia from the NFL, NHL, Golf, NBA and leagues and players around the world.
The store also carries many items for young athletes and athletes who are just looking for a great exercise and workout.
For more information and deals, visit MyHotElectronics.com.
About My Hot Electronics:
My Hot Electronics is a leading online e-commerce provider of electronics which range from tablets, PCs and cameras to video games, DVDs, Blu-Ray Discs, appliances, lawn and garden products and more.
The store also carries the top brands in electronics and apparel including, Nike, Adidas, Apple, Sony, Samsung, Microsoft, EA Sports, and many more. The company recently began its initial expansion into clothing and jewelry and will continue to expand over the next several months.
The store recently launched an online grocery store service to further the growth of its brand. The service will allow for food items to be delivered in bulk, such as meats, breads, breakfast items, and more.
Recently, My Hot Electronics' affiliate store, SportsFanPlayground.com, announced deals on various NBA jerseys for the upcoming season. Fans will be able to order top jerseys from players such as LeBron James, Kobe Bryant, Dwight Howard and more. The store has apparel and accessories from the NBA, NFL, NHL, MLB, UFC, WWE, FIFA and many more. The site also features collector's items, autographed pieces and various sporting goods and apparel.