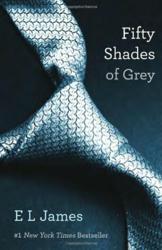 Detroit, Michigan (PRWEB) August 04, 2012
The Sports Fan Playground announced on Saturday that the store will carry the popular book and e-book, "Fifty Shades of Grey," along with the entire trilogy of the series.
The story is based on the character Anastasia and her love exploits and feelings for the fictional character, Christian Grey. The book has been an instant hit with women worldwide since its initial release.
"Fifty Shades of Grey" is the first book in the series by E.L. James. The other two books are "Fifty Shades Darker" and "Fifty Shades Freed."
For more information, please visit SportsFanPlayground.com.
About SportsFanPlayground.com -
The Sports Fan Playground is a store that specializes in apparel and memorabilia from the NFL, NBA, NHL, MLB, International Soccer, NCAA and many more. The store is also a leading online e-commerce provider of electronics which range from tablets, PCs and cameras to video games, DVDs, Blu-Ray Discs, appliances, lawn and garden products and more.
The store also carries the top brands in electronics and apparel including, Nike, Adidas, Apple, Sony, Samsung, Microsoft, EA Sports, and many more. The company recently began its initial expansion into clothing and jewelry and will continue to expand over the next several months.