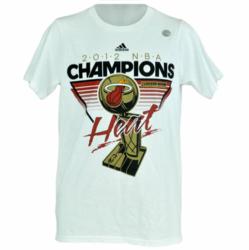 Detroit, Michigan (PRWEB) June 22, 2012
Sports Fan Playground announced on Thursday night that Miami Heat 2012 NBA Championship Gear is now available immediately at the company website, SportsFanPlayground.com.
The shirts and hats are made by the NBA official apparel partner for 2011-2012, Adidas, and is the authentic locker room shirt worn by the players and coaches directly after the game.
Along with the NBA Championship apparel, SportsFanPlayground.com also has apparel from the Heat's Eastern Conference Championship and their division championship as well. Later in the summer, the store will have the championship DVD and Blu-Ray available describing the Heat's run to the NBA Championship win over the Oklahoma City Thunder.
The store also carries the apparel for LeBron James, Dwayne Wade, Chris Bosh, and the rest of the top players on the Heat team and around the NBA.
The website will be able to ship products out beginning immediately with 2-day business delivery.
For more information, visit SportsFanPlayground.com.