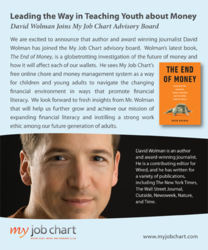 It's hard to imagine what child or family wouldn't benefit from this toolkit.
Phoenix, AZ (PRWEB) June 14, 2012
Widely recognized as a visionary thinker about the future of money, author and award winning journalist David Wolman says now, more than ever, young people can benefit from MyJobChart.com. Pointing to MyJobChart.com as an invaluable tool for teaching young people about money, earning, saving, and the economy, he recently joined the organization as an advisory board member.
Wolman's latest book, The End of Money, is a globetrotting investigation of the future of money and how it will affect each of our wallets. He sees the MyJobChart.com's free online chore chart and money management system as a way for children and young adults to navigate the changing financial environment in ways that promote financial literacy. "It's hard to imagine what child or family wouldn't benefit from this toolkit," says Wolman.
The website's sophisticated coding yet user-friendly interface has attracted more than 145,000 young people in less than two years, all of whom are tracking household chores while simultaneously learning financial fundamentals. The simple online program provides immediate feedback in the form of reward points: as young people complete chores they earn points, which can then be "saved" in online youth savings accounts, "shared" with a charity of their choice, or "spent" responsibly on something they need or want.
"I think the single most important ingredient to our site's popularity is our member's satisfaction—the sense of accomplishment it offers young people," says MyJobChart.com founder, Gregg Murset. "Our site is not some fantasy land- or video game experience. It's hands on, real world learning in a tech friendly and engaging way that teaches kids not only that earning requires work, but also that earning and tracking one's finances can be fun."
Murset says having Wolman join the MyJobChart.com advisory board is yet another indication of how our site is leading the way in teaching youth financial fundamentals in a society that is changing at a dizzying pace. "The reality," explains Murset, "is that handing kids a few dollar bills to place into a piggy bank isn't much of a lesson in the big picture. This is why we are excited to have bright, forward-thinking minds like David Wolmans' on our team. We look forward to fresh insights from Mr. Wolman that will help us further grow and achieve our mission of expanding financial literacy and instilling a strong work ethic among our future generation of adults."
To access the free chore tracking and money management tool, visit http://www.MyJobChart.com.
David Wolman is an author and award-winning journalist. He is a contributing editor for Wired, and he has written for a variety of publications, including The New York Times, The Wall Street Journal, Outside, Newsweek, Nature, and Time. A former Fulbright journalism fellow in Japan and a graduate of Stanford University's journalism program, he now lives in Portland, Oregon, where he received a 2011 Oregon Arts Commission Individual Artist Fellowship. His website is http://www.david-wolman.com, and you can follow him on Twitter @davidwolman