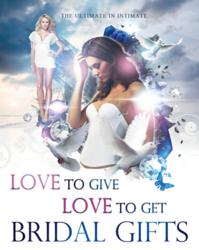 "Our gift registry offers an easy way to give her what she really wants," said Owner/President, Michelle Meyer.
Pocatello, ID (PRWEB) April 26, 2012
Mykarnation.com, one of the Web's leading intimate apparel retailers, announced today the addition of several key new features designed to enhance visitors' shopping experiences for sexy lingerie just in time for bridal season.
In addition to the standard wishlist, customers will now have the opportunity to create a gift registry (https://www.mykarnation.com/customer/account/login/) for a variety of milestone events from bridal showers and weddings to birthdays and anniversaries.
"Our gift registry offers an easy way to give her what she really wants," said Owner/President, Michelle Meyer. "Plus, it's not just for brides… or women, for that matter, but appropriate for couples looking to create the perfect honeymoon wardrobe for him and for her, or for romantic gifts for couples celebrating their wedding anniversary."
Next week, the retailer plans to their "Love to Give, Love to Get," gift registry campaign just for brides.
"Our new line of bridal lingerie is just one of the many things for brides to look forward to this season," said Meyer. "We have lots of surprises in store for the 2012 bride, including the chance to win a $400 shopping spree at Mykarnation.com."
Mykarnation.com also added a live customer care feature to enhance the online lingerie shopping experience.
"Shopping for lingerie can be intimidating in any environment," said Meyer. "Our customers love shopping with us because of the discreet, welcoming nature of our personal shoppers. Our live customer care feature allows us to re-create that personable in-store experience we are known for more authentically online."
In business with three store fronts for more than sixteen years, Mykarnation.com features one of the largest selections of merchandise for the intimate life available online, including sexy lingerie, plus size lingerie, romantic accessories, anniversary gifts and so much more. Plus, the retailer's philosophy is one of "What you see is what you get," which means that any orders placed are in stock and will be on their way to customers within 1 business day of purchase. No drop shipments... ever!
"Some of our competitors' sites are very misleading and customers don't realize when they place their orders that their packages may be drop shipped and arrive from several different locations," Meyer said. "Orders from Mykarnation.com are shipped straight from our stores to our customers… exactly the way they deserve it. It also gives us the chance to double and triple check each order so it's right for the customer the first time."
For more information or to preview the ultimate in intimate apparel available online, visit http://www.mykarnation.com, or follow the company on Twitter @mykarnation and Facebook for the inside scoop on specials, new product launches and more.
About Karnation Intimate Apparel, Inc.
In business with three storefronts for more than sixteen years, Karnation Intimate Apparel offers the ultimate in intimate. Always fun and a little bit flirty, Karnation is located in Idaho Falls, Pocatello and Twin Falls, Idaho, and now online, all designed to help customers turn up the heat in their love life as much or as little as they want to. Karnation's personal shoppers have built a first-class reputation for putting customers first with unmatched customer service and undivided personal attention. At Karnation, discretion is the name of the game and the company cherishes the customer's privacy. Whether customers want to embrace an innocent, ultra-feminine vibe, unleash an adventurous side, or get a little more creative in the romance department, Karnation makes it easy with an extensive, exclusive product selection featuring sexy lingerie, hosiery, bridal lingerie, plus size lingerie, romantic accessories, costumes, men's apparel, anniversary gifts, accessories and more.