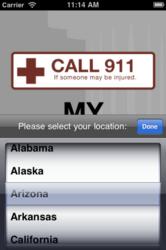 Chatham, New Jersey (PRWEB) September 15, 2011
Blume Goldfaden, a premier New Jersey personal injury and medical malpractice law firm, now offers a free "My Lawyer – travels with me" Android and iPhone application to the New Jersey community.
This app is a valuable tool that New Jersey residents may use to protect their legal rights, document evidence and save information following a motor vehicle accident. It also provides contact information so that accident victims may consult with a personal injury attorney as soon as possible.
The "My Lawyer" smartphone app includes many features. It provides an overview of relevant legal rights and state laws, as well as an accident checklist which accident victims may follow step by step. Additionally, the app instructs a victim to document and photograph evidence of an accident and any injuries, to send accident information via email to themselves or other necessary parties, to collect and save witness and insurance information and to contact an attorney at Blume Goldfaden, by phone or email, for an immediate no-cost consultation and advice.
Blume Goldfaden is a personal injury law firm in New Jersey that protects the rights of victims injured by accidents, medical malpractice and defective products throughout the state. The firm has successfully handled thousands and thousands of cases involving automobile accidents, construction accidents, unsafe products, unsafe premises, medical malpractice, wrongful birth, birth injuries and delayed cancer diagnoses. In the past 5 years alone, Blume Goldfaden has obtained more than $320 million in verdicts and settlements on behalf of clients with meritorious injury or wrongful death claims.
###