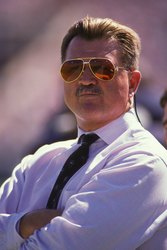 As a coach and businessman, I expect the best on and off the field
New York, NY (PRWEB) August 11, 2009
MyLLCAgreement.com, the leading online provider of customized LLC Operating Agreements, announced today that it has signed an online celebrity endorsement agreement with Football Hall of Famer, current ESPN football analyst, and successful entrepreneur Mike Ditka.
The campaign will be MyLLCAgreement's featured marketing campaign to promote online exposure and will grow in proportion to its success. The campaign marks the first online celebrity endorsement deal for MyLLCAgreement.com.
Mr. Ditka`s a Super Bowl champion coach and celebrated television personality whose integrity and success epitomizes the character of the MyLLCAgreement.com brand.
"As a coach and businessman, I expect the best on and off the field," said Mike Ditka. "Mike Ditka is more than just a recognized NFL Hall of Fame player, Super Bowl champion coach, and NFL ESPN analyst," said MyLLCAgreement.com President Adam Bergman. "Mike is a great leader and successful business owner who understands the need for entrepreneurs to have access to high quality, cost effective LLC Operating Agreements, which is exactly what MyLLCAgreement.com does!"
About MyLLCAgreement.com
MyLLCAgreement.com is the leading online provider of customized LLC Operating Agreements that are generated within minutes. MyLLCAgreement.com provides entrepreneurs and business owners with a high quality, cost effective LLC Operating Agreement solution without the need for costly attorneys. Through its cutting edge technology, MyLLCAgreement.com generates the actual LLC Operating Agreement for the customer to view before they even purchase it. To obtain additional information about MyLLCAgreement.com, please visit the Company`s website, which may be found at: http://www.MyLLCAgreement.com.
Contact:
Jaclyn Stevens
(973) 495-4119
800-562-9814
# # #