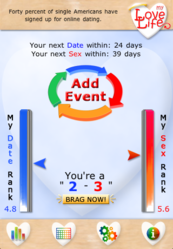 My Love Life is a revolutionary game changer for dating and intimacy.
Chicago, Illinois (PRWEB) October 09, 2011
My Love Life is a dating and intimacy App to keep track of and log all aspects of users dates, flirts, sex life and personal activities. My Love Life provides a quick and intuitive interface to record the data; With advanced statistics and graphing, sense can be made of all the records collected. Get a Date and Sex Rank based on the activity, brag on Facebook or Twitter, or email events to anyone. The Fun Facts section gives useful information and interesting data on Dating and Sexuality.
"My Love Life is a revolutionary game changer. There are no other apps that combine dating & intimacy (Love Life) in such a simple way. We strived to create a well written and thought-out application. We wanted to make it super easy to create events (such as dates, flirts, and intimate events) and then allow the user the flexibility to do many things with that information: post on Facebook, Twitter and email and brag about how many events they have had. The Fun Facts section is full of funny and fascinating facts about the topics of dating and intimate behavior. Possibly the most unique feature is our date and sex prediction. We use advanced mathematical algorithms to predict how long until your next date or sexual event based on your own history. The more you use the App the more accurate the predictions get." - Ezra szoke, CEO IAG Ideas, LLC
Now iPhone, iPod touch, and iPad® users have a simple and effective tool to keep an intimate record of their love life. Use this tool to see whether changes over time have happened, who was dated and when, what happened and how often.
Features include:

User-friendly, easy to add events
Email, Facebook, Twitter enabled
Powerful Predictions
Fun Facts information section
Review and edit past event history
Automatically generated rankings based on
data compared to others

Password Protected
All stored Information (contact info, event
records, etc.) saved inside App only
Device Requirements:
iPhone, iPod touch, or iPad with iOs 4.0 or later
Pricing and Availability:
My Love Life is $2.99 (USD) and available worldwide
exclusively through the App Store in the Lifestyles Category
My Love Life - Lite is Free and limited to 5 stored Events
For inquiries:
Please visit My Love Life
###