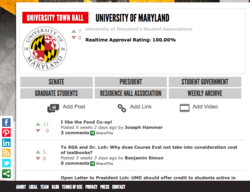 MyMaryland hopes to foster political engagement and break the barrier between constituents and politicians.
(PRWEB) April 08, 2013
Just one month after MyMaryland.net's public launch, 500 verified Maryland voters and University of Maryland students have registered for the online town hall platform. The site has given citizens a chance to make their voices heard on issues being debated in Annapolis and on Capitol Hill such as gun control, the recent financial sequester and environmental policy.
MyMaryland.net is democracy's first ever 24/7, online town hall. The site is designed for voters to engage with Maryland elected officials in the hopes of creating a more open government. When users register for an account and enter their address, MyMaryland scans the Maryland voter database to verify them as registered voters. They are then linked to town hall forum pages for their elected officials.
MyMaryland.net has found a strong user base on the University of Maryland, College Park campus. 23-year-old site Founder, Ben Simon, is a UMD senior. Several dozen students have voiced their opinions on campus issues, such as tuition prices, campus safety and UMD's move to join the Big 10 athletics conference.
The UMD Student Government Association has begun actively engaging with the UMD student body on the platform. Other UMD officials that can use the site include university President Wallace D. Loh, the Residence Hall Association, the University Senate and the Graduate Student Government.
MyMaryland.net has strong support in the Maryland political community. The team has met with over 55 elected officials. Most recently, Simon met with the office of Governor Martin O'Malley. MyMaryland hopes to foster political engagement and break the barrier between constituents and politicians.
MyMaryland.net has raised $75,000 of seed funding to date including a grant from the Sunlight Foundation, as well as $120,000 a year in free advertising from Google. The site was also one of ten start-ups to recently complete Point of Light's inaugural Civic Accelerator program.
MyMaryland.net is a project of MyAmerica, Inc., a 501(c)(3) nonprofit devoted to developing new tools that increase civic engagement and strengthen government transparency and responsiveness.
MyAmerica plans on extending its platform to all 50 states in the next two years. By doing so, the organization hopes to transform representative democracy and facilitate an open dialogue on the local, state and national levels.